WARNING: Footage contains graphic images some viewers may find distressing.
Campaigners are calling for CCTV to be installed at every abattoir after cameras captured "horrific" animal abuse at a slaughterhouse in North Yorkshire.
Secret footage filmed at the Bowood slaughterhouse showed the workers repeatedly punching and hurling the sheep before they are killed, as well as taunting and frightening them for their own amusement.
The men are also seen "hacking and sawing" at conscious sheep's necks in an apparent disregard to the usual practices involved in religious slaughter of animals.
Under the halal code, animals are supposed to be killed with a single cut of a surgically sharp knife, with UK law stating they should also be stunned unconscious before they are slaughtered.
Islam also states you are not allowed to slaughter an animal in front of an other animal.
The footage, filmed over three days in December and released by charity Animal Aid, shows sheep being kicked in the face and smashed headfirst into solid objects and getting picked up by their fleeces, throats and ears before being thrown.
In one instance, a worker can be seen standing on the neck of a conscious sheep then bouncing up and down and another worker holding a sheep by its throat and threatening to punch it.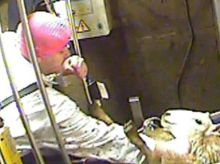 The slaughterhouse workers are also heard erupting into laughter at a sheep bleeding to death with spectacles drawn around her eyes in green paint.
Four of the workers at the abattoir have had their operating licences suspended by the Food Standards Agency (FSA) after they were shown treating the animals with "gratuitous violence and contempt".
The FSA has now launched an investigation saying there was "no excuse for treating animals in the way shown on the video" and that prosecutions could follow.
Kate Fowler, head of campaigns at Animal Aid: "The vicious attacks on defenceless, frightened animals at Bowood are inexcusable. All four conveyor operators we filmed over three days abused animals to varying degrees, while the slaughterers looked on unmoved.
"This is the tenth slaughterhouse in which we have filmed undercover, and it is the ninth to be caught breaking animal welfare laws. None of the abuses we uncovered would have come to light without our cameras being in place, even though there is a government-appointed vet at each slaughterhouse.
"Since our first investigation in 2009, we have been calling on the government to make independently monitored CCTV cameras compulsory for slaughterhouses, and yet – despite our evidence of widespread, violent attacks on animals – it resolutely refuses. In doing so, it fails the animals to no lesser an extent than the men who physically beat, kick and abuse them."
Fowler also created an e-petition calling for mandatory CCTV in all slaughterhouses, which has attracted more than 84,000 signatures.
The Muslim Council of Britain said it is "appalled" at the footage.
A spokesperson said: "Animal cruelty is wrong and criminal wherever it may occur.
"That it is being carried out in halal slaughter makes it even more incredulous. Animal welfare should be observed by all slaughterhouses.
"The findings certainly are abhorrent in Islamic practice, and the abattoir must be subject to the full force of the law."