Halfords Group expects its full-year gross margins to decline by 130 to 150 basis points. It says the expected decline is in line with market expectations although it is worse than the forecast of at least 100 basis points given in November.The group is scheduled to release its pre-close trading update on Thursday.
The automotive and leisure retailer maintains a clear leadership in cycling and car maintenance markets and has a strong business presence with an excellent brand being adapted to the changing needs of its customers by creating innovative, quality products at great prices.
"The underlying performance of our business is encouraging as we develop Halfords in line with the changing needs of our customers. Our expansion in Auto after-care is proving very popular. In store our Wefit offer reached record levels as we increasingly fit and attach the parts we sell. In Autocentres, at a difficult time for motorists, we are attracting new customers to our brand by offering great value. We are continuing to grow market share in the Cycles category through the launch of new ranges and the introduction of new products. The economic outlook remains uncertain, but we are confident that our focus areas create the right platform for future growth," said CEO David Wild.
Halfords' revenue for the six months to September 30, 2011 was £454.0 million, comprising retail revenue of £400.6 million and autocentres revenue of £53.4 million. Profit before tax declined by 20.4 percent to £54.7 million, with basic EPS of 19.8 pence.
The like-for-like revenue from car maintenance and car enhancement both fell by 12.8 percent versus declines of 3.1 percent and 9.8 percent respectively during its first half. But the group believes its business is cash generative, pays material dividends and remains in a sound financial position to deliver optimal performance for customers and investors in these harsh times.
"Trading and gross margin guidance were worse than our expectations," analyst Freddie George at Seymour Pierce said in a note, cutting his full-year profit forecast and reducing his target price to 300 pence from 350 pence.
"Relatively undervalued Halfords shares should enjoy some support thanks to a near 7 percent dividend yield, the relatively defensive nature of its business and the fact that it does not face major competition from the big supermarket groups," said Credit Suisse.
Below is a summary of sector comparisons in terms of price earnings, earnings per share, dividend per share, dividend yields, return on equity and price-to-book ratio. The table explains how the company is performing against its peers/competitors in the sector. The table below represents top eight companies based on market capitalisation.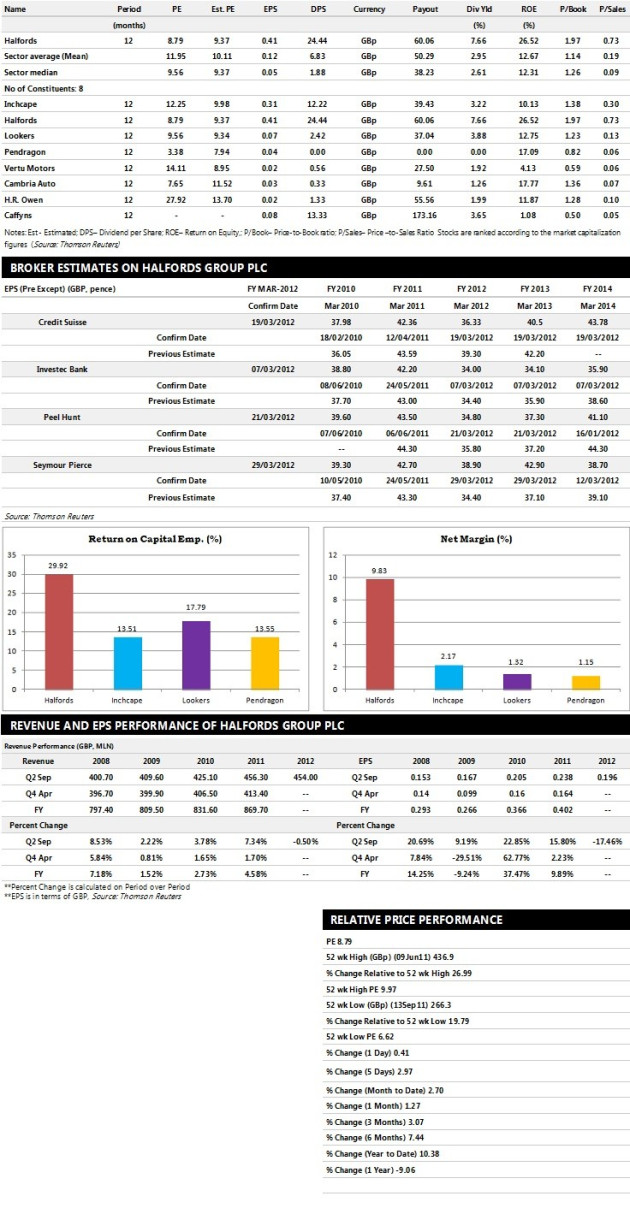 Brokers' Views:

- Seymour Pierce recommends 'Outperform' rating with a target price of 370 pence per share
- Peel Hunt assigns 'Hold' rating with a target price of 320 pence per share
- Credit Suisse gives 'Outperform' rating with a target price of 400 pence per share
- Investec Bank assigns 'Outperform' rating with a target price of 325 pence per share
Earnings Outlook:
- Seymour Pierce estimates the company to report revenues of £868.40 million and £891.40 million for the FY 2012 and FY 2013 respectively with pre-tax profits (pre-except) of £106 million and £110.60 million. Earnings per share are projected at 38.90 pence for FY 2012 and 42.90 pence for FY 2013.
- Peel Hunt projects the company to record revenues of £865 million for the FY 2012 and £904 million for the FY 2013 with pre-tax profits (pre-except) of £93.30 million and £93.90 million respectively. Profit per share is estimated at 34.80 pence and 37.30 pence for the same periods.
- Credit Suisse expects Halfords to earn revenues of £873 million for the FY 2012 and £917 million for the FY 2013 with pre-tax profits of £101 million and £111 million respectively. EPS is projected at 36.33 pence for FY 2012 and 40.50 pence for FY 2013.