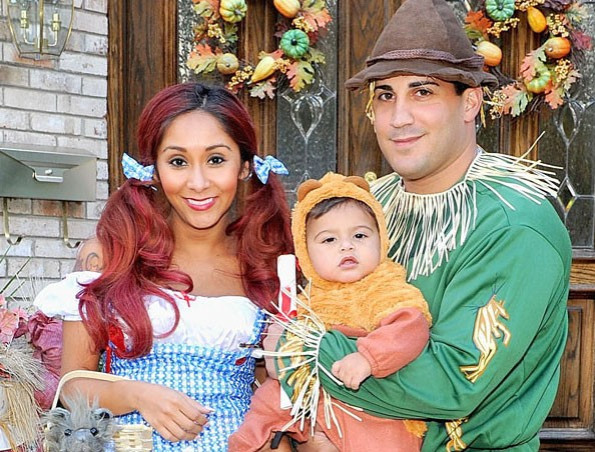 American reality television personality Nicole Polizzi, aka Snooki, her fiance Jionni LaValle and their son Lorenzo posed as The Wizard of Oz characters, to celebrate Halloween in Whippany, New Jersey.
The 25-year-old Dancing With the Stars contestant, who dressed up as Dorothy Gale, wore a blue and white dress with ruby red slippers and her hair in pigtails.
She also carried a stuffed animal dog - Toto, in a basket. LaValle who dressed as the Scarecrow, recreated the character in a green long sleeve top, covered in hay and brown pants. He completed the look with a brown hat. The couple's 14-month-old son was in Cowardly Lion costume.
"It's almost Halloween, babyboos! I recently asked you all to help me, Jionni, and Lorenzo with our group costumes this year! I got so excited because Lorenzo could finally dress up! Thank you for all your awesome suggestions!! There were so many good ones, it got even harder to decide!! But we finally chose Wizard of Oz! I'm obsessed with those glittery red heels!!! And look at my man and my baby!! SO CUTE!!! Thank you so much to Rubies Costume Company for these amazing costumes," she wrote on her blog, along with the link to the costume company's Instagram post, of the trios outfits.
In other Halloween news, How I Met Your Mother actor Neil Patrick Harris and his fiance David Burtka and their three-year-old twins Harper and Gideon dressed up as Alice in Wonderland characters to a recent Halloween party at an elementary school in Studio City, California. Harris and Burtka wore matching Tweedledum and Tweedledee costumes while son Gideon dressed as the White Rabbit, and daughter Harper as Alice.