Hamas has vowed retaliation against Israeli officials after a top militant of the group was killed in the Gaza Strip last week. Though the Israeli side is tight-lipped about the death of Mazen Fuqaha, the Palestine Islamist group has blamed Israeli agents for the killing.
On Saturday, 1 April, posters of the assassinated commander appeared across Gaza. "Challenge accepted", read one of the posters in both Arabic and Hebrew. Hamas, which controls the Gaza Strip, warned Israeli forces to brace for "intensive action against Israeli agents in the coming hours and days".
The Gaza Strip's interior ministry added that defence capabilities have been beefed up in the region "in order to ensure the security". It said those responsible for Fuqaha's death could face arrest and even execution. Since the murder, the Strip remains on total lockdown with Hamas blocking entry and exit points. Only humanitarian access with strict restrictions has been allowed.
Fuqaha, who was living in exile, was shot by a professional hit squad on 24 March. The senior Hamas operative, originally from the West Bank, was released in 2011 as part of a prisoner exchange.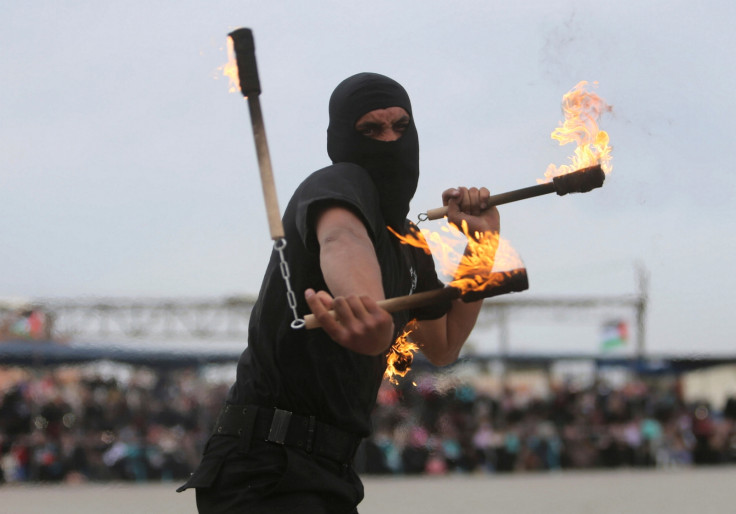 "Assassinations do not frighten us," senior Hamas leader Ismail Haniyeh said. "These murderers and their dispatchers will not escape divine punishment, punishment by the people and punishment by the resistance organisations."
Fuqaha was a top figure in Hamas' militant wing involved in several high-profile attacks against Israel. He was given life sentence by Israel in 2003 but was freed in 2011 in exchange for the release of Israeli soldier Gilad Shalit.