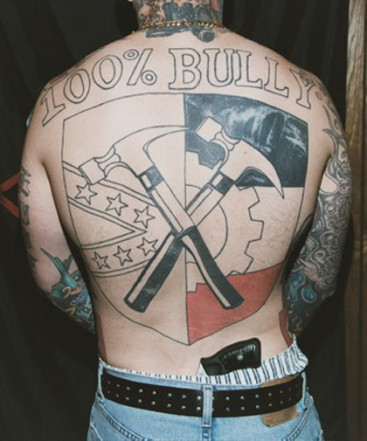 A white supremacist festival in Milan has attracted neo-Nazi bands and right-wing extremists from across Europe including Domenico Bosa, aka Mimmo Hammer, who has been linked to an investigation into the Calabrian 'Ndrangheta mafia.
Mimmo Hammer was seen at Hammerfest 2014, a white supremacist music festival organised by the international Hammerskin Nation network.
Milan prosecutors have unveiled a wiretapped conversation in which Mimmo Hammer was allegedly giving advice to a Montenegro drug lord, Milutin Todorovic, on how to deal with a powerful 'Ndrangheta boss based near Milan: Giuseppe Flachi, aka Pepe.
In the recording, Todorovic says he wants retaliation after Flachi missed payment for a drug shipment. But Mimmo Hammer suggests that he avoid war and "let other people fight so you can progress".
The level of infiltration of 'Ndrangheta mafia in northern Italy is so high that some experts such as Marcello Ravveduto, a researcher with Salerno University, compare it to a "colonisation attempt".
From the mountains of southern Italy, the 'Ndrangheta mafia has become Europe's heavyweight drug cartel, establishing ties with the drug barons in South America and spreading their wings of influence to northern Italy.
In November, a mafia initiation rites video made the headlines as it showed for the first time new members of the Calabrian mafia taking a mafia oath in front of a hidden camera.
The apparently ground-breaking footage was recorded by Carabinieri police and included the ritual known as the Santa (Holy) bestowal, in which initiates swear allegiance "in the silence of the night and under the light of the stars".
However, Ravveduto told IBTimes UK that according to his research, no mafia organisation pledges allegiance this way. "It's a total invention," he said. "Mafia knows how to use mass communication. The oath is diverting public opinion's attention from real issues.
"They're not using traditional elements. They would've never used La Marmora, for instance, in a real oath."
Against all the glamour, the real mafia oath is the bonds between family members, Ravveduto says.
"That's what it makes 'Ndrangheta the strongest of the three mafias and difficult to beat," he said.
Hammerfest attracted criticism from the Jewish community for its showing of Nazi symbolism. An appeal by Milan Jewish community had called on "democratic forces, institutions and authorities" to "intervene in order to impede" the event. Milan Mayor Giuliano Pisapia called the rally "unacceptable".