Phillip Hammond will use his Autumn Statement to set about making the UK economy "match-fit" for Brexit. The UK's chancellor of the exchequer will on Wednesday (23 November) announce plans to overcome economic uncertainty the country has faced since the vote to leave the European Union was held in June.
Included in his spending plans is a pledge to boost infrastructure spending – including £1.3bn ($1.61bn) to overhaul parts of the country's road network. He will also make announcements on tax and benefits as he sets about eroding the "eye-wateringly large" national debt.
Speaking on the Andrew Marr show, Hammond outlined the importance of preparing the UK economy for any shocks from Brexit."We have to maintain our credibility," he said. "We have an eye-
"We have to maintain our credibility," he said. "We have an eye-wateringly large debt. We still have a significant deficit in this country and we have to prepare the economy for the period that lies ahead.
"I want to make sure the economy is watertight, that we have enough headroom to deal with any unexpected challenges over the next couple of years, and most importantly we're ready to seize the opportunities of leaving the European Union."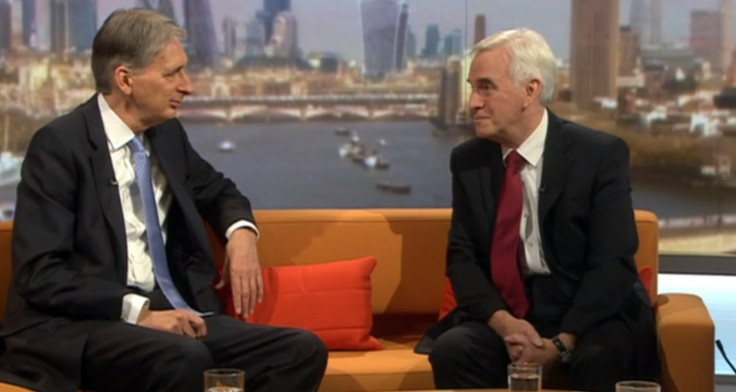 Admitting there would be uncertain years ahead, Hammond said there would then be a "whole raft of opportunities and we need to get the country ready to be able to seize these".
The government, he said, would increase spending on "network infrastructure" and "science and knowledge", while attacking shadow chancellor John McDonnell over his plans to borrow £500bn. "We don't have unlimited capacity as one might imagine listening to John McDonnell," the chancellor quipped.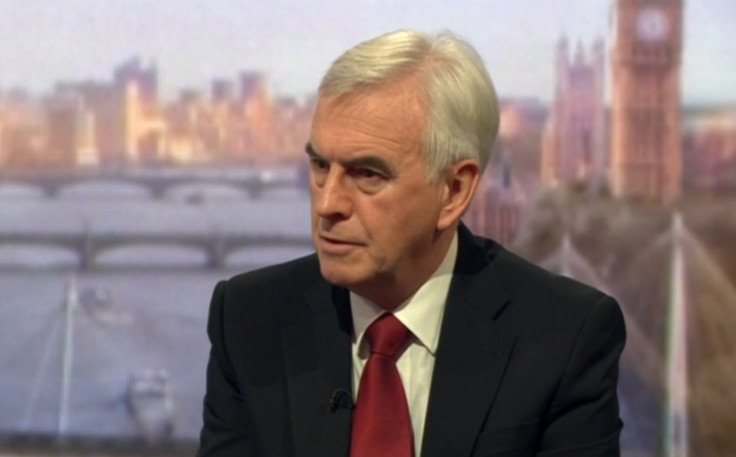 McDonnell earlier said Labour was rebuilding its credibility after the 2008 financial crash, but said the Conservatives' fiscal plan had failed.
"We've been behind on fiscal credibility ever since the crash so we've got to build are credibility," he said. "What we've said is the existing fiscal framework of this government has failed and they know that.
"It has been six years, [the] deficit was supposed to be eliminated last year – it is now £45bn. Debt is £1.7tn now, [the Conservatives] added £750bn to the deficit, virtually. So what we need is a fiscal credibility rule that says 'Yes, you bring down the deficit on a rolling five-year programme.' In other words, you spend what you earn."
Labour would spend £500bn over a 10-year period, McDonnell said. Half would be directly invested on infrastructure projects, including roads and rail, while the remaining £250bn would be used to create an "investment bank".
Currently, low burrowing costs meant growth of up to 2% would come "fairly rapidly" making Britain "buzzing", he added.
On the Autumn Statement the shadow chancellor said plans to increase spending was nothing more than "gimmicks and press releases all over again", adding proposals would make only a "minor" change from those outline by predecessor George Osborne.