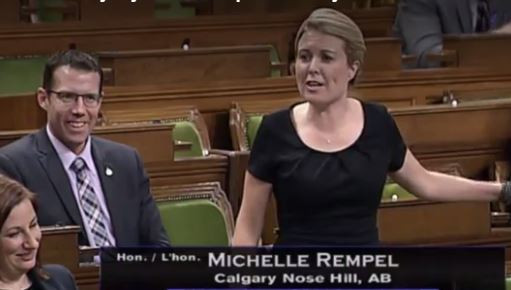 Michelle Rempel, a Canadian MP, caused a furore over her use of the word "fart" in Parliament on Tuesday (November 15). Though many were shocked by fellow MP Elizabeth May's subsequent intervention.
Speaking about the economy of Alberta, MP for the aptly named Calgary Nose Hill electoral district, Rempel caused a stink when she posed the question: "Why does the government treat Alberta like a fart in the room that nobody wants to talk about or acknowledge?"
Rempel's assertion drew the ire of one colleague in particular who did not take issue with her sentiment so much as her turn of phrase. Green Party leader Elizabeth May therefore duly invited Rempel to withdraw her comments.
She said: "I heard her say a word I know is distinctly unparliamentary, and I think she may want to withdraw it," before spelling the word out to fellow MPs for the avoidance of doubt.
"The word was f-a-r-t," May clarified.
Rempel was apparently infuriated by her colleague's comments and what she saw as a dismissal of an important issue and asked the Speaker of the House: "Is my colleague actually serious?
"I just gave an impassioned speech about supporting Alberta jobs," she added "and that is what the leader of a political party stands and says? No, I do not withdraw it."
Later on Rempel took to Twitter to further express her irritation, stating: "This is the craziest, most useless, out of touch intervention from another MP that I've ever experienced in my experience of public service."
However, May defended her intervention and accused her colleague of "contributing to declining respect in Parliament," adding "Not what Cdns want."
However, if May took issue with Rempel's choice of words, she would likely have been appalled by current Prime Minister Justin Trudeau's outburst at a 2014 charity boxing match. Then leader of the Liberal Party before becoming Prime Minister in 2015, Trudeau told the crowd from the ring: "All the – your name, your fortune, your intelligence, your beauty – none of that f*****g matters."