New Queens Park Rangers manager Harry Redknapp says discussions over the club's transfer plans are yet to take place while admitting he had been contacted by David Beckham in the wake of his appointment.
Redknapp was confirmed as the new Rangers boss prior to the defeat to Manchester United on Saturday, replacing Mark Hughes who was sacked on Friday after failing to win any of the club's opening 12 league games.
The 65 year old's prowess in the transfer market could play a significant part in assisting QPR's fight against relegation, but Redknapp says that despite contact with Beckham, who is seeking a new challenge after confirming his departure from LA Galaxy last week, the club's hierarchy are yet to discuss the January transfer window.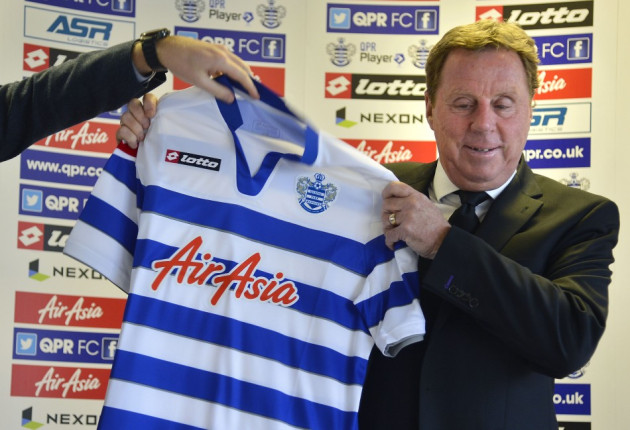 "I got a lovely text from David - not talking about coming but wishing me the best," Redknapp said. "He is a top professional but I have never discussed the chances of him coming.
"I have not discussed any players with the chairman at this moment. What happens in January is way off."
"I want to keep QPR in the Premier League," he added. "If the players try as hard as me, we will be successful.
"There are nice people who own this club who deserve success. They spent money in the summer and have invested in the club, and that for me was important. When I met them, I knew what I was coming to. I think they found it very hard to let Mark (Hughes) go, that is for sure."
Redknapp was sacked by Tottenham Hotspur at the end of last season after guiding the club into fourth in the Premier League and seemingly into the Champions League, until Chelsea snatched away the final qualification spot after beating Bayern Munich on penalties.
The-ex Southampton and Portsmouth boss played an advisory role at AFC Bournemouth earlier in the season and was heavily linked with taking the vacant manager's position with the Ukraine National Team, but a last ditch move from QPR
"I was very close to the Ukraine," Redknapp admitted. "It was a fantastic offer and I had meetings with them in London, it was a great chance for me but this came up and I decided the Premier League was where I wanted to be. If this had not come up on Friday, I would have taken the (Ukraine) job on a four-year deal."
"We have to do better to have a chance of getting out of this mess.
"It is going to be full on for everybody, I need people who work. I learnt at school you work hard and run about, if they put in that effort we have a chance of surviving. If they don't I will find 11 players who do.
"I know the players and it shouldn't be too much of a problem to sort the team out. I will look at the players individually and it is a case of trying to find the best team out of the group. We need some results quickly."