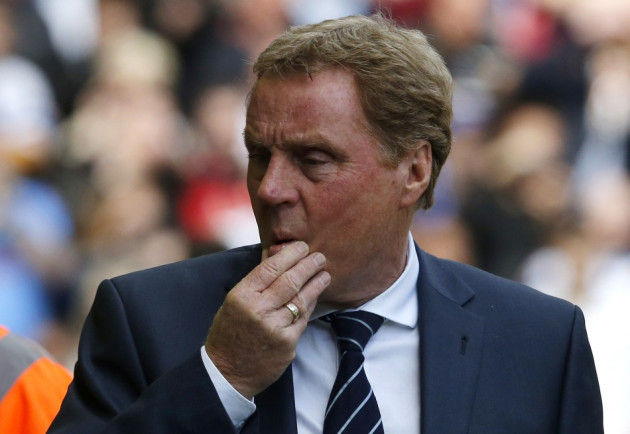 Harry Redknapp insists Tottenham Hotspur chairman Daniel Levy's reputation as a shrewd negotiator deterred The Football Association from paying his £16m release clause to become the new England manager.
Roy Hodgson was appointed in May last year, prior to the 2012 European Championships, after Redknapp had been long tipped to replace Fabio Capello who had resigned earlier in the year.
In a published extract from his new autobiography in the Daily Mail, Redknapp admits that following messages from the likes of captain Steven Gerrard, the current Queens Park Rangers boss believed he was favourite for the position but says the proposition of paying his massive release clause was too great for The FA.
"Everyone said I was the people's choice, the only choice. All the senior players seemed to be up for me to get the job," he said. "I got quite a few text messages at the time from players saying they would love me to manage England: Steven Gerrard, Wayne Rooney, Rio Ferdinand, John Terry.
"I'll admit, I thought it was mine. Everyone seemed so certain, everyone I had met from all parts of the game seemed utterly convinced it was my job.
"I went to a dinner and Gareth Southgate got me up on stage and interviewed me as if I were the next England manager.
"I began to think it was almost nailed on if I wanted it. And I did want it.
"I know some of my positive comments at the time about becoming England manager upset Tottenham, but I was only speaking honestly. I was not revealing any state secrets there. It is the pinnacle of your career.
"I'm sure the FA would deny they were interested in me anyway, they always like to say they got their No 1 choice, but maybe what helped make their minds up was the thought of writing a cheque in the region of £16million to Levy.
"He is known for driving a hard bargain at the best of times; get Daniel on a bad day and I would have ended up more expensive than Capello - and the FA were already getting a lot of criticism over his £6m-a-year salary.
"Of all the reasons doing the rounds for me not becoming England manager, the compensation issue makes most sense."
After Redknapp made no secret of his desire to replace Capello and when his Tottenham failed to qualify for the Champions League due to Chelsea's European Cup win, the 66 year-old was sacked at the end of the season.
Despite remaining committed to Spurs, Redknapp has revealed he began drafting plans for his tenure with England such was his confidence over being offered the position, approaching then Swansea City manager Brendan Rodgers over being his number two.
Rodgers would go on to be appointed the Liverpool manager later in the year, but Redknapp wanted his acute passing game to become the identity of the England national team.
"If I had become the England manager I would have taken Brendan Rodgers as my No 2," Redknapp added.
"He had players at Swansea passing it like Franz Beckenbauer. You know how his teams are going to play before you kick off. They are going to pass, they are going to take risks; but England do not have that identity.
"Now we have Roy Hodgson who will keep England organised, for sure. I just hope he will also be a little bit bold, open up and try to get England playing the type of football we all want to see.
"Look at Brendan at Liverpool now - he still knows how he wants to play. He got rid of Andy Carroll because he wasn't in that plan. That is how Spain operate: this is how we play and we don't compromise.
"My thinking on Brendan was this: if he can do it with players from the lower leagues at Swansea what can he do with Rio and Terry or Rooney and Gerrard?
"So when Tottenham played Swansea on April 1, 2012 I pulled Brendan after the game and said that if all the speculation about me and England was true would he consider coming to the European Championships in the summer as my part-time coach?
"I told him I wanted England to play with as much technical ambition as Swansea. He was up for it.
"If I got the job, he said, he would speak to the people at Swansea to get their permission. 'It would be a great experience for you, Brendan,' I told him. 'I want England to play like you play. Pass the ball, play and play and play.'"