Boy band crooner and tabloid favourite Harry Styles has revealed a surprisingly macabre taste in modern art after he bought a cast of a skull to decorate his bachelor pad.
The piece, which depicts a skull on a bible with a syringe lying next to it, was one of several snapped up by the One Direction singer on his visit to the Art13 fair in west London.
Among other pieces, Styles splashed out on a statue of Jesus wearing boxing gloves and a piece by taxidermist Polly Morgan, who creates art from dead pigs, birds and insects, and has sold work to model Kate Moss.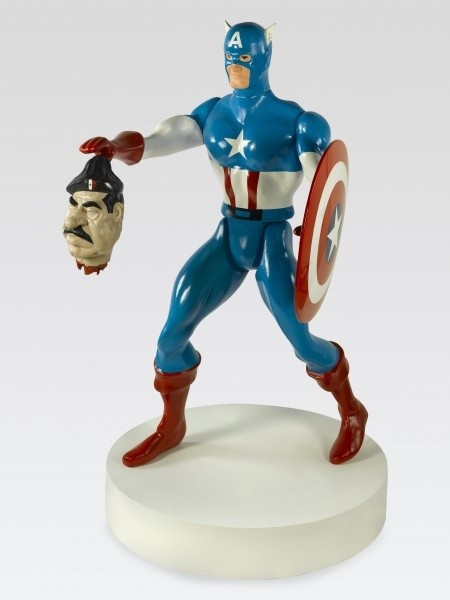 He also bought prints by Ben Turnbull, whose previous work (above) depicts Captain America holding the severed head of Saddam Hussein.
Earlier in the week Styles had been spotted snapping up pieces at a vintage shop in north London, including a sign saying 'Poo', which he purchased for £100.
Last year it was reported that he had bought a £3 million house in north London.
Styles is not the only pop star with a surprising taste in modern art.
Diva Christina Aguilera is known to collect the work of Brit graffiti artists Banksy and D*Face, while David and Victoria Beckham are known to have a collection of pieces by Damien Hirst.