Women continue to go public with allegations of sexual harassment, assault and rape against pariah Hollywood producer Harvey Weinstein, after an initial investigation into his conduct was published on 5 October.
Weinstein denies the most serious accusations, but has admitted the way he's behaved in the past "caused a lot of pain", apologising for his actions. He is now in rehab seeking treatment for sex addiction.
Police in New York and London have revealed they are investigating allegations, and now law enforcement in Los Angeles is following suit.
In the initial report, The New York Times quoted stories of abuse and harassment from actor Ashley Judd and former Weinstein Company employee Emily Nestor. A later report from The New Yorker included the first accusations of rape.
Below we've listed the most serious allegations made by the women who've bravely come forward to tell their stories.
Rose McGowan
Probably the most vocal of Weinstein's accusers, the Times reported that McGowan reached a $100,000 settlement with Weinstein in 1997 following an incident in a hotel room. The settlement was "not to be construed as an admission" by Weinstein. McGowan didn't speak to the paper, but later accused Weinstein of rape.
In tweets directed at Amazon chief Jeff Bezos, McGowan said: "I told the head of your studio [Roy Price] that [Weinstein] raped me. Over and over I said it. He said it hadn't been proven. I said I was the proof."
Asia Argento
Italian actor Argento was named in the New Yorker feature, and described an encounter with Weinstein at a hotel on the French Riviera during, which he forcibly performed oral sex on her. "He terrified me, and he was so big," she said. "It wouldn't stop. It was a nightmare."
Lysette Anthony
British soap star Anthony told her story to The Sunday Times. She described encountering Weinstein in 1982, then a few years later meeting him at this rented home in London. "The next thing I knew he was half undressed and he grabbed me... It was the last thing I expected and I fled. That was when the predatory stalking began."
She then accused Weinstein of rape, saying he appeared at her flat one day, where he "pushed me inside and rammed me up against the coat rack... He was trying to kiss me and shove inside me." She described trying to push him away but said his size and weight were too much. "Finally I just gave up."
Anthony's claim is one of the four allegations being investigated by the Met.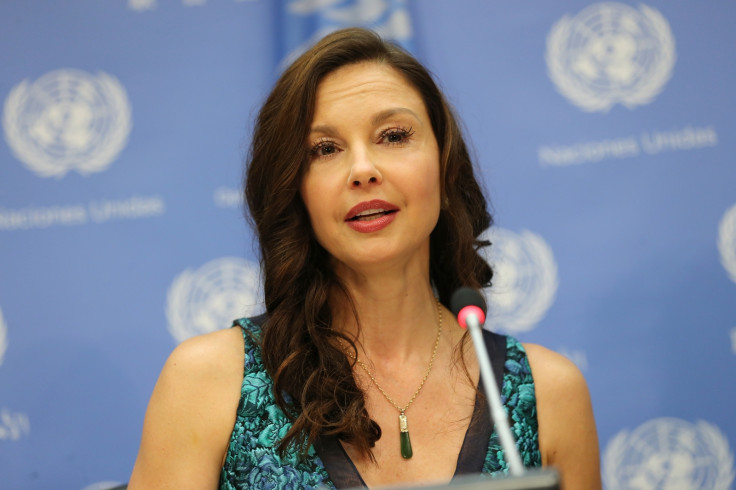 Ashley Judd
Judd was among the women who spoke to The New York Times. She described meeting Weinstein in a hotel room where he was dressed in a bathrobe and asked if he could massage her or if she could watch him shower.
"How do I get out of the room as fast as possible without alienating Harvey Weinstein?" Judd recalled thinking. "I said no, a lot of ways, a lot of times, and he always came back at me with some new ask. It was all this bargaining, this coercive bargaining."
Lupita Nyong'o
Oscar-winner Nyong'o opened up about her experiences with Weinstein in a piece written for The New York Times. She described a lunch meeting in 2011, when she was still a student, in which the producer insisted she drink alcohol when she didn't want to, and then an incident afterwards at Weinstein's own home.
He invited her to view a film, but then led her to a bedroom. He asked if he could massage her, she instead offered to massage him – hoping it would buy her time to figure out how to get out of the situation.
At a later dinner meeting, Weinstein propositioned her, suggesting they go to his hotel room. She turned him down. "If I wanted to be an actress, then I had to be willing to do this sort of thing," she wrote. "He said he had dated Famous Actress X and Y and look where that had gotten them.
Kate Beckinsale
Gwyneth Paltrow
The Iron Man star told The New York Times that Weinstein summoned her to a hotel room when she was 22, suggesting they could massage one another. She refused and told then-boyfriend Brad Pitt about the incident.
Pitt confronted Weinstein, after which the producer called Paltrow and "screamed at her for a long time".
Angelina Jolie
In the same piece, Angelina Jolie said she refused similar advances in the late 1990s. "I had a bad experience with Harvey Weinstein in my youth, and as a result, chose never to work with him again and warn others when they did," she said. "This behaviour towards women in any field, any country is unacceptable."
Rosanna Arquette
Alongside Jolie and Paltrow, Desperately Seeking Susan star Rosanna Arquette described an incident in which after asking for a massage, Weinstein grabbed her hand and moved it towards his neck and then penis.
"My heart was really racing. I was in a fight-or-flight moment," she said, describing how upon leaving she told Weinstein: "I will never do that... I'll never be that girl."
Judith Godrèche
French actress Judith Godrèche also told NYT that in another hotel room Weinstein again asked for a message, telling her it was an American custom. "The next thing I know, he's pressing against me and pulling off my sweater," she said. "I tried to negotiate the situation over the years, and negotiate with myself and pretend it kind of never happened."
Cara Delevingne
Romola Garai
Garai described a hotel room incident to The Guardian in which she was asked to meet with Weinstein. "He answered the door in his bathrobe," she said. "I was only 18. I felt violated by it, it has stayed very clearly in my memory."
"The transaction was just that I was there," Garai added. "The point was that he could get a young woman to do that, that I didn't have a choice, that it was humiliating for me and that he had the power. It was an abuse of power."
Heather Graham
The Austin Powers star described in an article written for Variety how in the early 2000s Weinstein called a meeting with her and told her he wanted to put her in a film. During this initial meeting Weinstein said he had an agreement with his wife that he could sleep with whomever he wanted when he was out of town. "There was no explicit mention that to star in one of those films I had to sleep with him, but the subtext was there."
Later, Weinstein tried to get Graham to a hotel. "I called one of my actress friends to explain my discomfort with the situation, and she offered to come with me. En route, she called me to say she couldn't make it. Not wanting to be at the hotel alone with him, I made up an excuse – I had an early morning and would have to postpone.
"Harvey told me that my actress friend was already at his hotel and that both of them would be very disappointed if I didn't show. I knew he was lying, so I politely and apologetically reiterated that I could no longer come by.
"That was the end of that encounter — I was never hired for one of his films, and I didn't speak up about my experience."
Eva Green
The Casino Royale star told Variety about an encounter with Weinstein in Paris where "he behaved inappropriately and I had to push him off. I got away without it going further, but the experience left me shocked and disgusted".
Lena Headey
Minka Kelly
Claire Forlani
Zoe Brock
"As a model I was used to predatory men and had become adept at brushing off unwanted advances and putting creepy perverts in their place," she wrote in a blog post. She described a hotel incident, in which Weinstein emerged from a bathroom naked and asked if Brock wanted a massage.
She describes locking herself in the bathroom to get away from him. Eventually, he became apologetic. "I could see the guy felt truly remorseful. He was near tears. But I could also tell that he had no idea how messed up this 'apology' was. How many girls were there? Did this shit happen every day?"
Jessica Barth
Barth spoke to the New Yorker, describing an incident around the 2011 Golden Globes when Weinstein invited the Ted star to a hotel room, offered her a role and demanded a nude massage. Barth refused and Weinstein grew angry, telling her she needed to lose weight "to compete with Mila Kunis".