Kate Middleton shows baby bump during first public appearance since announcing pregnancy
The duchess made her first appearance for World Mental Health Day alongside Prince William and Prince Harry.
The Duchess of Cambridge gave everyone a peak at her tiny baby bump during a Buckingham Palace reception marking World Mental Health Day on Tuesday (10 October) as she made her first public appearance since announcing her third pregnancy in September.
The 35-year-old royal joined her husband, 35-year-old Prince William, and brother-in-law, 33-year-old Prince Harry, to host a glamorous reception to recognise mental health workers. Kate wore a £795 powder blue lace dress by Temperley London and paired it with stylish black pumps, the MailOnline reported.
The royal mother-to-be, who has not been seen in public since 30 August, is still suffering from hyperemesis gravidarum, a severe form of morning sickness that she had during her first two pregnancies, but is improving, an aide revealed.
"The duchess' condition is improving but she is still suffering from hyperemesis gravidarum. She is delighted to be able to be here tonight," the aide said.
Kate appeared in great spirits, greeting guests alongside the two princes. According to the MailOnline, guests including former Dame Esther Rantzen, Deputy Prime Minister Nick Clegg and model Adwoa Aboah.
The duchess was praised for making an appearance at the event despite her illness. "I do understand she's been having this problem more severely than many pregnant mothers and so we're very grateful [she's here]," said Stephen Fry, who gave an emotional speech about mental health.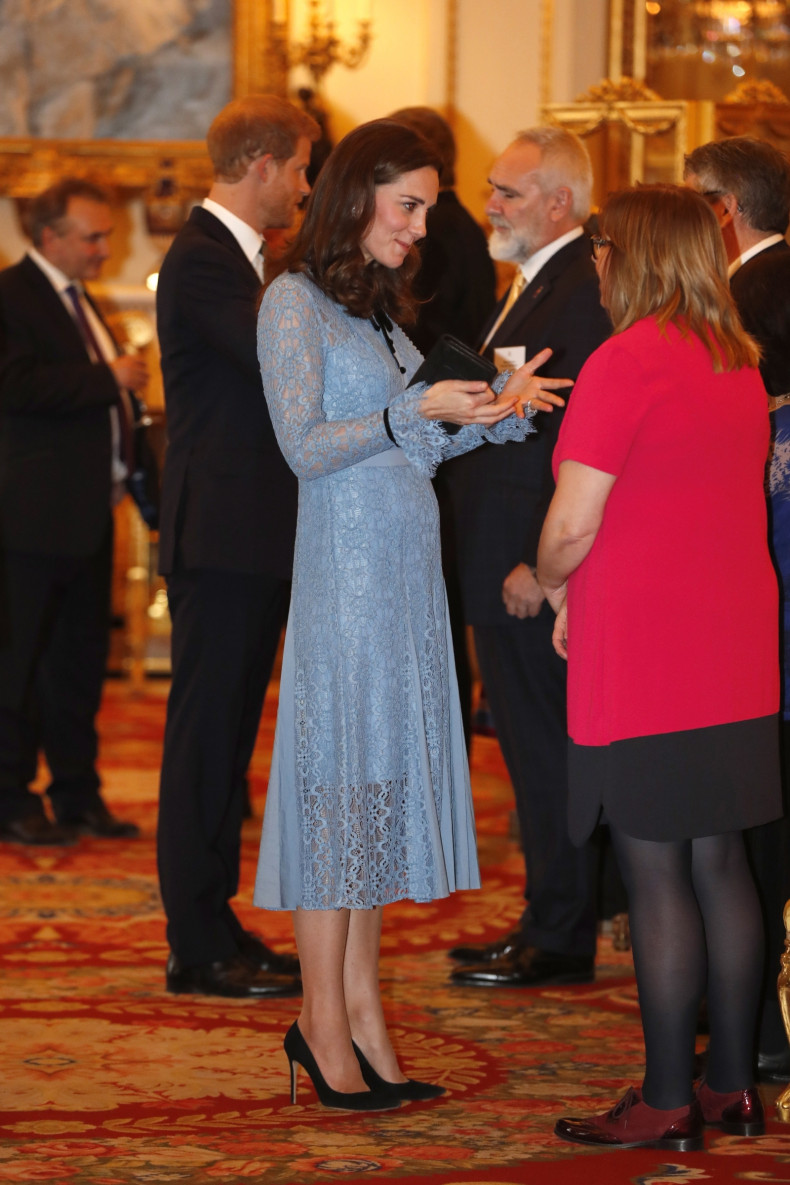 Fry also praised the royal trio for their mental health campaign. "When mental health is discussed here under these chandeliers in front of these portraits it does have a meaning, it does show a change in our society's ability to look at problems like mental health," he said.
The comedic actor said the royals' campaign was an "extraordinary achievement," adding: "No one would realise if they hadn't done it, which makes it all the more remarkable that they have."
Dame Esther Rantzen also praised William and Harry, the MailOnline reported. "In speaking about their own mental health issues, particularly relating to the loss of their mother at such a young age, [the princes] are making such a huge difference. It is a remarkable and wonderful legacy."