Donald Trump has extended his long-running feud with leading global news outfits to other organisations as he held an impromptu 77-minute press conference on Thursday (16 February).
The BBC's North America Editor, Jon Sopel, noted that for half an hour, Trump laid into the press in what he described as "the most extraordinary news conference I have attended". Sopel found himself on the firing line as soon as he introduced himself as a BBC journalist, with the president saying: "Here's another beauty".
As Sopel defended the organisation as "impartial, free and fair", Trump likened it to his bitter rival, CNN.
But the president did not stop there. Indeed, he sought to lambast what he perceives to be unfair coverage. "The public doesn't believe you people anymore," he declared to a room full of reporters.
"Now, maybe I had something to do with that. I don't know. But they don't believe you."
Of course, no Trump press conference would be complete without a thorough and specific derision of CNN. Here's his shot at the news organisation:
"I don't mind bad stories. I can handle a bad story better than anybody as long as it's true and, you know, over a course of time, I'll make mistakes, and you'll write badly and I'm okay with that. But I'm not okay when it is fake. I mean, I watch CNN, it's so much anger and hatred and just the hatred," the president said.
He went on to claim he has the public on his side, saying: "Look, when I go to rallies, they turn around, they start screaming at CNN. They want to throw their placards at CNN."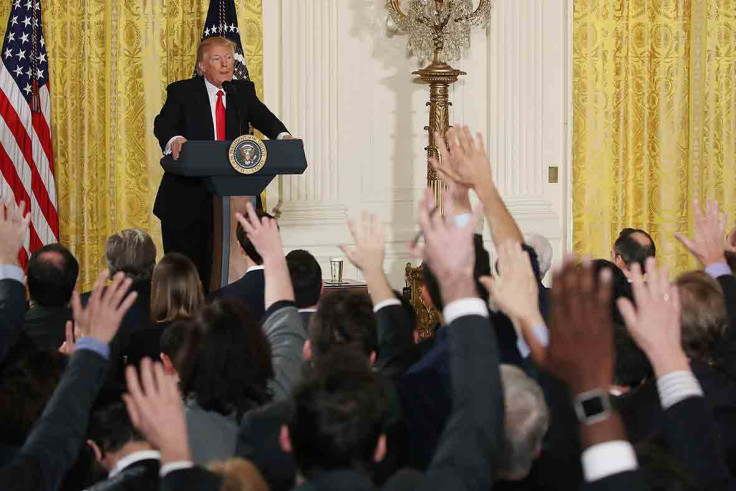 Trump has long made his disdain for the New York Times (NYT) clear and has frequently referred to it as a "failing" news organisation. Earlier this week, the NYT reported that members of Trump's presidential campaign team and other associates "had repeated contacts with senior Russian intelligence officials in the year before the election".
Trump blasted the NYT article in the conference, saying: "The failing New York Times wrote a big, long front-page story yesterday. And it was very much discredited, as you know. It was – it's a joke. And the people mentioned in the story, I notice they were on television today saying they never even spoke to Russia."
Despite the president's claim, the report clearly stated: "The officials interviewed in recent weeks said that, so far, they had seen no evidence of such cooperation [between Trump's campaign team and Russia]." While the report was criticised by Trump, it has not been "very much discredited", as he claimed.
Trump's attacks on media outlets and its journalists, in particular, finally provoked the ire of Fox News, who President Trump has previously lauded for its coverage.
In the aftermath of the combative presser which saw "Trump's feud with the media turn into an all-out war", Fox News anchor Shepard Smith hit out at the president for his continual bashing of journalists.
Smith pointed out that reporters have every right to ask questions about Russia and any improper communications with its officials. "We are not fools for asking this question, and we demand to know the answer to this question," said Smith.
"You owe this to the American people. Your supporters will support you either way. If your people were on the phone, what were they saying? We have a right to know, we absolutely do and that you call us fake news and put us down like children for asking these questions on behalf of the American people is inconsequential. The people deserve an answer to this question at very least."
Another organisation which has dared to cross Trump is Vanity Fair, whose editor, Graydon Carter characterised the president as having a "messy birdcage of a mind".
In an editor's letter, Carter asked: Do the hopeful citizens of Florida, Wisconsin, Michigan, and Pennsylvania the states that swung the election in his favour – really think that this administration's collection of billionaires, former bankers, deregulators, and climate-change deniers are going to be looking out for them rather than for themselves and their cronies?"
Yesterday Trump claimed he "can handle a bad story better than anybody". So what, then is his opinion of Carter and Vanity Fair?
Taking to Twitter, the president's favourite platform, Trump posted: "Way down, big trouble, dead! Graydon Carter, no talent, will be out!"