US President Donald Trump has claimed his administration is "running like a fine-tuned machine" and blamed "fake news" for real leaks that he deemed "illegal" during his first solo press conference.
The Republican's latest rant against mainstream press continues a long running trend of attacking media coverage of his administration – using the phrase 'fake news' to describe and dismiss unfavourable reportage on a number of issues — including the size of the crowd at his inauguration.
Trump, in comments reported by Sky News, said: "The media is trying to attack our administration because they know we are following through on pledges we made and they're not happy about it."
"But a lot of people are happy about it."
"I turn on the TV, open the newspapers, I see stories of chaos. Yet it is the exact opposite. This administration is running like a fine-tuned machine."
The president then turned his attention to a number of leaks, some thought to have originated from within the White House, that earlier this week led to the resignation of former National Security Advisor Michael Flynn over exposed links with Russia.
He added: "It's now starting to turn. People giving out illegal classified information.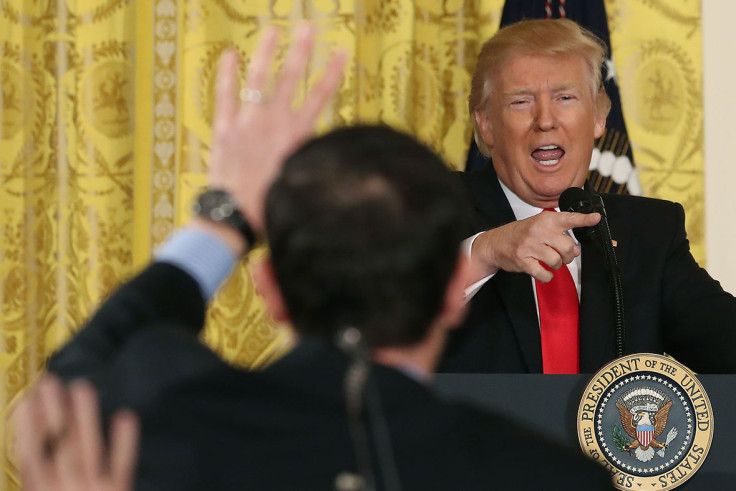 "I called, as you know, Mexico. It was a very confidential, classified call. All of a sudden it's out there for the world to see. It's supposed to be secret. Same thing with Australia.
"All of a sudden people are finding out exactly what took place. The same thing happened with General Flynn."
Asked about his advisers having contact with Russia during his presidential election campaign, Trump said in comments carried by The Hill: "You can talk all you want about Russia, which is all a fake news, [a] fabricated deal."
Trump has been plagued by leaks from within the White House, with his Press Secretary Sean Spicer pledging to stamp out information leaks just a few days ago.
But although the president said the leaks were real, he said the information was not.
"The leaks are real, but the news is fake because so much of the news is fake," he said.
He added: "The first thing I thought when I saw this was how does the press get this classified information? You know why, because it's an illegal process. And the press should be ashamed of themselves.
"What happens when I'm dealing with North Korea? What happens when I'm dealing with the Middle East? Are you folks going to be reporting all that?
"We are going to stop it. That's why it's a criminal penalty."
The president did not cease his attack on the media as he continued his press conference, adding: "Tomorrow they will say 'Donald Trump rants and raves about the press'. I'm not ranting and raving. I'm just telling you, you are dishonest people."