Microsoft's Lumia 830 smartphone seems to have reached the end of life (EOL) cycle.
A leaked screenshot coming from a Microsoft employee who wishes to remain unnamed says, "The Lumia 830 is no more, to fill I this empty space in the store, the Lumia 735 will do it."
The end of life means Lumia 830's inventory will no longer be replenished, as it will be replaced by Lumia 735.
The screen, which was obtained and published by WMPU, suggests that Microsoft intends to replace Lumia 830 with the Acer Liquid M220 Phone, but this is for Microsoft Store 0059 only.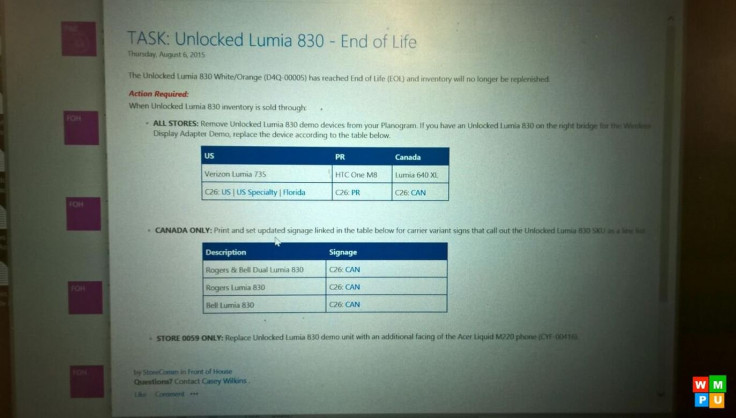 Since we do not have any information from Microsoft, treat the above with a grain of salt.
At IFA 2014, Microsoft unveiled Lumia 830 alongside Lumia 730 and 735, which sits among the rival mid-rangers in the market. Lumia 830 is Microsoft's affordable 5in smartphone which incorporates high-end technologies including optical image stabilisation and PureView imaging.
It sports a slim design that is made out of lithium aluminium and polycarbonate and integrated wireless charging. The handset comes pre-loaded with a Lumia Denim update, which brings Live Folder, Apps Corner, an updated Glance screen and secure networking to Windows 8.1 devices.