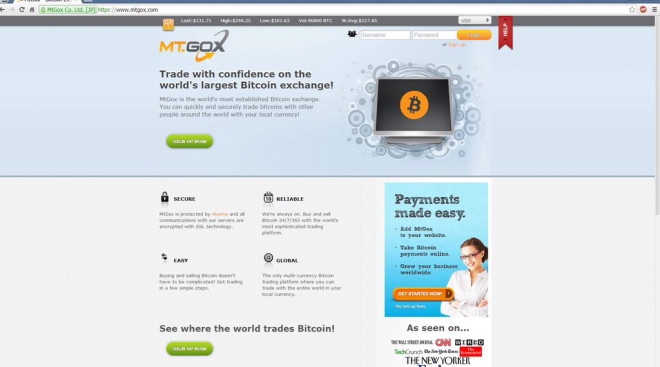 Mt. Gox was once the world's largest bitcoin exchange, handling 80% of all bitcoin transactions at one point in 2013. It was also once an online exchange for buying and selling Magic: The Gathering cards, a popular trading card game.
On Tuesday, a bitcoin entrepreneur called Ryan Selkis published an explosive internal document from Mt Gox called Crisis Strategy Draft which outlined how "at this point, 744,408 bitcoins are missing" as a result of a two-year long cyber-attack which went "unnoticed."
Initially even Selkis himself was unsure of the validity of the document, tweeting: "If this turns out to be an elaborate hoax then I won't have much reason to write anymore & will likely be ostracized from the industry."
It seems however that the documents are real and as the document itself said: "The reality is that Mt Gox can go bankrupt at any moment."
While cyber-campaigns of this length and thefts of this magnitude are not unheard of, because this is bitcoin, the impact is immediately obvious.
In the hours following Selkis's revelation, the price of bitcoin – and all other cryptocurrencies – has dropped, with bitcoin seeing $2 billion wiped off its market capitalisation in a matter of hours.
Black sheep
Mt. Gox may have been the number one exchange in the world for bitcoin at one point, but in recent months it has been seen as the black sheep of the bitcoin community.
Bitcoin had its break-out year in 2013. It's value rose 6,000%. The value of a single coin broke the $1,000 mark and it passed the value of an ounce of gold. The US Senate took it seriously and the Winklevoss twins invested heavily, calling the cryptocurrency Gold 2.0.
However there were clearly problems with bitcoin, and in particular with Mt. Gox. The exchange had been causing problems for users, with many having to wait months to withdraw their bitcoin and/or US dollars.
Resilience
Things got more serious earlier this month when Mt Gox stopped withdrawals of bitcoin altogether. It led to the price of bitcoin on the exchange dropping well below the rest of the market, hitting a low of $120 at one point.
While such a crisis would typically have seen the overall price of bitcoin fluctuate wildly, the five-year-old cryptocurrency was showing resilience. It's price had dropped from the high of $1,200 last December but it was remaining steady at around $600 despite these problems
It looked like bitcoin was moving away from huge highs and disappointing lows, to become a more reliable commodity, one in which people could have some sort of trust.
That however could now all be lost.
"Tragic violation of the trust of users"
What mt. Gox has done amounts to a "tragic violation of the trust of users" according to a strongly worded statement from a group of industry heavy weights who are seeking to stem the tide which is growing against bitcoin following the theft.
While at one point Mt. Gox could have been reasonably described as the centre of the bitcoin world, it no longer commands that position following multiple glitches, trading suspensions, hacks and regulatory investigations.
The loss of 744,000 bitcoins does however represent a significant slice of the bitcoin market - 6% of the more than 12.4 million bitcoins in circulation to be precise.
Can bitcoin rebound?
The question for many now will be whether bitcoin can rebound. Has enough resilience been built into the cryptocurrency that it will come back from yet another hammer blow to its confidence?
The answer is no one knows.
In the coming days and weeks we will see exactly what happens on the cryptocurrency markets, as bitcoin bulls try to play down Mt Gox's importance and those directly affected have their say.
Mt. Gox may not be the centre of the bitcoin universe any more, but it was important – how important will only be known in the coming weeks and months.