Crime buffs have used advanced DNA analysis techniques to reveal what they claim is the true identity of Jack the Ripper: a Polish immigrant called Aaron Kosminski.
The identity of the notorious serial killer, who killed at least five women, all prostitutes, in London's East End has remained a secret since his crime spree ended in 1888.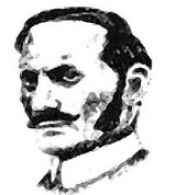 However, a new book claims to have solved the mystery.Researchers claim that DNA samples taken from a shawl belonging to one of the killer's victims has proven that 'Jack' was a local Polish immigrant Aaron Kosminski, a barber who worked in Whitechapel who was one of six people on the Victorian police's list of suspects.
Businessman Russell Edwards, who describes himself as an "armchair detective", bought the scarf. It belonged to the Ripper's fourth victim, Catherine Eddowes, and was discovered by police close to her mutilated body at the murder scene. Edwards sent the scarf to Dr Jari Louhelainen, a senior lecturer of molecular biology at Liverpool John Moores University.
Dr Louhelainen used using modern forensic analysis techniques to compare DNA from the shawl to DNA from the victim's descendants and the suspects – leading to the conclusion that the scarf did belong to Catherine Eddowes.
They were joined by another DNA analysis expert, Dr David Miller, who analysed the scarf for traces of DNA from semen on the scarf. This matched a DNA sample from a descendant of Kosminski's sister Matilda – which the team say proves Kosminski was the killer.
In the book – Naming Jack the Ripper – Kosminski is described as a barber from Whitechapel and was named in the notes of Chief Inspector Donald Swanson, the officer in charge of the original investigation.
Police did not have enough evidence to convict Kosminski at the time, despite him being identified by a witness, but kept him under surveillance until he was committed to a mental asylum in 1890.
Kosminski was 23 years-old when the murders took place. He lived with his two brothers and a sister just 200 yards from where the third victim, Elizabeth Stride, was killed, on the same night as Eddowes.
Dr Jari Louhelainen, who also works on unsolved 'cold cases' for Interpol in his spare time, told the Mail on Sunday he is convinced that they have caught their killer.
He said: "Now that it's over, I'm excited and proud of what we've achieved, and satisfied that we have established, as far as we possibly can, that Aaron Kosminski is the culprit."
Jack the Ripper is believed to have killed five women in 1888. However, over the next three years there were more murders in Whitechapel, which similar to the Ripper killings, although they were never formally linked together.