Iranian President Hassan Rouhani held a meeting with Pope Francis at the Vatican as part of his European tour. The duo discussed religious and political conflicts taking place in the Middle East.
In what had been heralded as yet another symbol of Iran's improving ties with the western world, Rouhani, a Muslim cleric, met the Catholic leader for nearly 40 minutes — a relatively long duration by Vatican standards. The private encounter was the first face-to-face conversation between a pope and an Iranian president since 1999, the last time an Iranian leader visited Europe.
During the last few minutes of the meeting, when journalists were allowed to listen, the departing Rouhani was heard saying: "I ask you to pray for me," referring to one of the pontiff's signature remarks. "It was a pleasure to meet you and I wish you well in your work."
Francis told his guest: "I thank you for your visit and I hope for peace." The Vatican and Iran had diplomatic ties before the Iranian Revolution in 1979.
Francis, who himself is a strong backer of the Iranian nuclear deal, was given a hand-woven Persian carpet along with some works of Iranian painter Mahmoud Farshchian by the visiting president. In return, Rouhani went away with the pope's extended essay on environmental challenges, known as "Laudato Si" or Praise Be.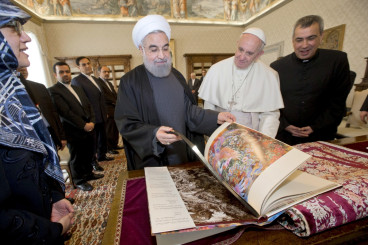 Rouhani's Vatican visit was part of his packed agenda for the four-day European tour, which is primarily aimed at securing a spate of trade and business deals with the West. Iran is looking to re-energise its relations with the world as it emerges from the decades-long sanctions, which were lifted on 16 January following the implementation of the landmark nuclear agreement.
Subsequent to the conversation between Rouhani and Francis, the Vatican said in a statement: "The parties highlighted the importance of inter-religious dialogue and the responsibility of religious communities in promoting reconciliation, tolerance and peace."
At the Francis-Rouhai talks, the Vatican said: "Common spiritual values emerged, and reference was made to the good state of relations between the Holy See and the Islamic Republic of Iran."
As a mark of sensitivity and not to upset Rouhani, Italian officials covered several Roman-era naked statues in Capitoline Museum when he visited. Ahead of his discussions with the pope, Rouhani told a gathering of Italian and Iranian business leaders: "Iran is the safest, the most stable country in the entire region. Everyone understood that the nuclear negotiations represented a win-win situation for both sides. Now we have created the conditions for investment and for the transfer of know-how. There has to be an advantage for both sides: we invite you to invest and we will provide stability and ensure that you can make adequate returns."