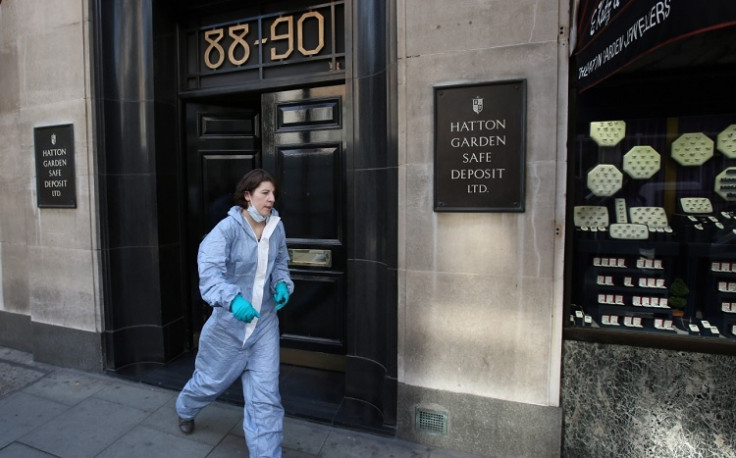 The mystery surrounding Britain's biggest heist deepened after claims emerged that the burglars accessed the Hatton Garden Safe Deposit company by breaking through a wall and abseiling down a lift shaft.
The thieves had four days over the Easter Weekend to help themselves to jewels worth an estimated £200 million ($298m, €275m) it is believed.
One unconfirmed report alleges the suspects may have hidden upstairs in an office late on Thursday waiting for staff to leave. Another says they entered via the building's roof.
It is believed the gang disabled the vault alarm before cutting through the 18in metal door. Police confirmed 60 to 70 security boxes were plundered, mostly belonging to those involved in the gold and diamond trade.
A Met Police spokesman said: "This is a slow and painstaking process involving forensic examination, photographing the scene and recovering exhibits in meticulous detail in order to preserve the evidence. Officers anticipate this process to take approximately two days."
He added officers were working to establish the identities of those affected and will contact them in due course.
One jewellery wholesaler Mohammed Shah said he had around £100,000 worth of gems in a box.
He told The Times: "I am insured but many people who use these boxes are not. The truth is nobody really knows what is kept in these boxes."
"How did the alarm system not go off? They must have had inside information. I heard that they got in through the lift shaft," another jeweller told the Daily Mail.
A security guard was alerted when an alarm went off on Friday but said he "wasn't paid enough" to check inside the safe, according to reports.
The police were only called yesterday, (7 April) when staff came back to work and noticed the break-in.
The Met's Flying Squad is now investigating the theft. Police confirmed that heavy cutting equipment was used to get into a vault.
Anyone with any information is asked to contact Crimestoppers anonymously on 0800 555 111 or call the Flying Squad directly on 020 8785 8655.