Hayley Okines, from Bexhill in East Sussex, was praised for helping to raise awareness of the condition progeria before she died aged 17 on 2 April 2015. Her rare premature ageing condition led her to be known as the "100-year-old teenager".
Hayley's open funeral service will take place at All Saints Church in Sidley, Bexhill-on-Sea, on 15 April.
Hayley was told she would not live past the age of 13 after being diagnosed with Hutchinson-Gilford Progeria Syndrome, which causes sufferers to age at eight times the normal rate.
However, after undergoing specialist drug treatment, Hayley managed to live to the age of 17 before her mother confirmed she had "gone somewhere better" on 2 April.
Among those who paid tribute to the teenager was pop star Justin Bieber, who tweeted "RIP Hayley" to his 62 million followers on Twitter.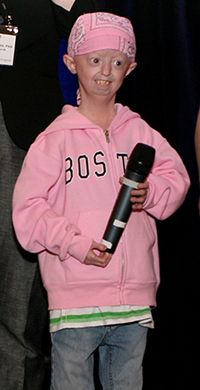 Hayley published an autobiography Old Before My Time at the age of 14 in which she describes her life with progeria: "My life with progeria is full of happiness and good memories. Deep inside I am no different from anyone. We are all human."
She also featured in a number of documentaries, including Channel 5's Extraordinary People and in Extreme Aging: Hayley's Story, broadcast on Discovery Health Channel in 2009.
The Progeria Research Foundation (PFR), which hopes to find a cure for the condition, described Hayley as a "shining star".
A PFR spokesperson said: "Hayley was one of the first participants in the on-going progeria clinical trials. Hayley was a pioneer – and one of the reasons that we now have the first treatment for Progeria. We remember her tremendous courage and determination."
Progeria currently affects only 125 children around the world, and many will die at an average age of 14. Progeria causes heart problems, lack of growth, and loss of body fat and hair for sufferers.