This is the tear-jerking moment when an autistic boy is reunited with his favourite cuddly toy after a global online appeal.
Ten-year-old Kye would cry several times a day and could not sleep properly after his "Doggy Woof Woof" got lost earlier this year. The soft animal had been Kye's pal and comforter since he was a baby.
Many autistic children develop serious emotional attachments to particular items. If these items are lost or destroyed it causes them extreme distress, turning their worlds upside-down.
But now an ambitious project called LittleBlueCup, started by the father of another autistic lad, is reconnecting kids with those irreplaceable items by harnessing the power of social media.
In September, the organisation posted pictures of Kye and Doggy Woof Woof to its 15,000 followers asking them if they, or anyone they knew, had an identical toy at home.
Two months later, Kye cried tears of joy as his cuddly friend returned home, after a woman realised she had the very same animal lying at the bottom of a toy basket.
"I will never forget that moment when Kye unwrapped that box and saw doggy woof woof; absolutely priceless and emotional doesn't even come close," Kye's mum Michelle wrote on Facebook.
"I will equally never forget the beautiful words from LittleBlueCup when the search first began and the kindhearted Donna McIntyre who acted so kind and selfless and gave Kye back his heart melting smile.
"You are such wonderful people and Kye and I can never thank you enough. This page is a true miracle," she added.
LittleBlueCup was founded by Marc Carter after his teenage son Ben's special cup – the only object he would drink from – got worn out in 2016.
Ben's blue Tommee Tippee cup had been out of production for twenty years. Its distinctive shape meant Ben was uncomfortable drinking from anything else and he even ended up in A&E with extreme dehydration.
Marc used the internet to appeal for anyone that might have an identical cup they could give to Ben. The request went viral and, in late 2016, the manufacturer found an old mould for the cup and made a lifelong supply of 500 cups especially for Ben.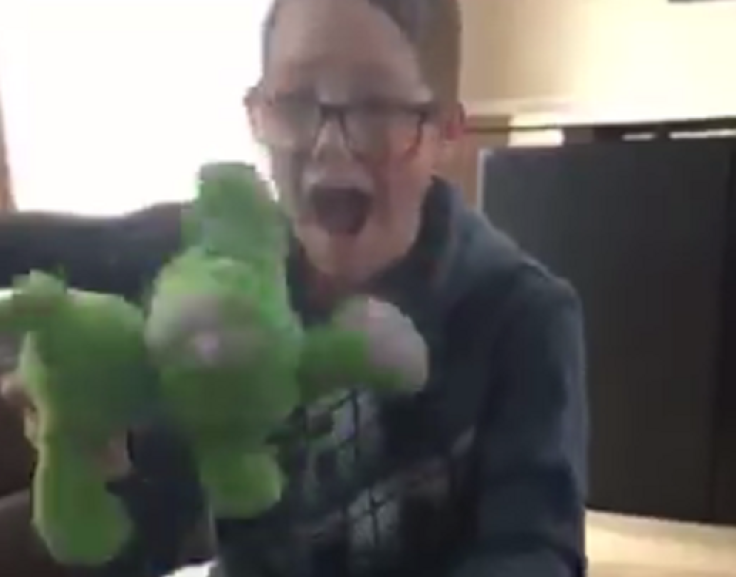 Marc decided to use his personal success to launch a global project that would help the parents of other autistic and special needs children track down rare items that they could hardly live without.
One year later, Little Blue Cup has found more than 2,000 objects from all over the world for heartbroken kids. The fast-growing project has more than 15,000 Facebook followers and branches in Australia, the US and Canada.
Kye and his Doggy Woof Woof are just the latest success story – other recent heart-breaking reunions have included Isaac and his favourite trilby hat, and a boy from Doncaster called Merlin who lost his prized Merlin the Wizard toy.
The smiles on these children's faces as they are reunited should guarantee that the LittleBlueCup project goes from strength-to-strength.
The National Autistic Society said, on its website: "Autistic people might also become attached to objects (or parts of objects), such as toys, figurines or model cars – or more unusual objects like milk bottle tops, stones or shoes.
"Autistic people often report that the pursuit of such interests is fundamental to their wellbeing and happiness."