A shocking photo showing a young girl covered in bruises and with a badly swollen face after she lost most of her family in a Saudi-led air strike on Yemen has triggered a furious anti-war backlash.
Buthaina Muhammad Mansour, who is believed to be between four and five years old, does not know that her parents, five siblings, and uncle were killed when their home was flattened in an air strike in Yemen's capital Sanaa on 25 August.
The Saudi-led military coalition said the strike, which killed at least 14 civilians, including six children, was "accidental and unintentional" and the result of a "technical mistake".
The strike took place just two days after the coalition bombed a hotel near Sanaa, killing around 60 people and injuring 13. While receiving treatment for her injuries in hospital, Bhutaina called out for her uncle, Mounir, who was killed in the strike.
Buthaina's other uncle, Saleh Muhammad Saad, who survived the attack, told Reuters that he tried to pull his relatives from the rubble. "I tried to remove the rubble from on top of (Buthaina's father) and his wife, but I couldn't. They died," he said.
"We lifted the rubble and saw first her brother Ammar, who was three, and her four sisters, all of them dead. I paused a little and just screamed out from the pain. But I pulled myself together, got back there and then heard Buthaina calling."
He said Buthaina's survival gave him some comfort as he mourned the loss of the rest of his family.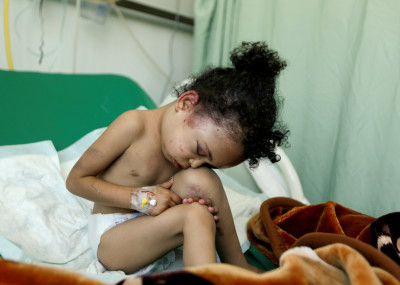 A photo of Buthaina trying to open her swollen eye with her left hand has gone viral and prompted people around the world to share pictures of themselves imitating her gesture along with the hashtag '#For eyes_buthaina' in solidarity with the young orphan.