Explosions have rocked the area surrounding a military base in Yemen's capital Sanaa on Friday (28 July).
The blasts occurred one day after Saudi Arabia said a missile from Houthi rebels was shot down over its territory, towards the holy city of Mecca.
Yemen has been ravaged by a civil war since 2015.
The conflict has pitted Iran-allied Houthi forces – who control the capital Sana'a and are allied with loyalists of former president Ali Abdullah Saleh – against forces allied to the ousted government of Abdrabbuh Mansur Hadi, based in Aden, supported by a coalition led by Saudi Arabia.
Riyadh and its allies aim to restore Hadi's government.
Both warring sides claim they constitute the government of the country.
Saudi Arabia said in a statement quoted by Reuters that the rebel missile was "a desperate attempt to spoil the haj pilgrimage". The annual pilgrimage, due to begin next month, attracts thousands of Muslims to Mecca, Islam's holiest city.
However, Houthi forces said the missile was aimed at the King Fahd air base in Taif.
The latest missile attacks came weeks after a High Court ruled the UK government had not acted unlawfully by continuing to sell arms to Saudi Arabia, following allegations the weapons have been used to target civilians in Yemen.
The ruling occurred after the court was able to view previously unseen secret documents made available after the Campaign Against Arms Trade (CAAT) group launched a legal challenge.
The group claimed the UK had licensed more than £3.3bn in arms sales to Saudi Arabia since it became involved in the war in Yemen in March 2015. The organisation claims there is a "growing body of evidence" to suggest the air strikes have been used to target civilians, in breach of international humanitarian law.
The court's decision followed claims by a think tank that the UK was trying to bury a report on Saudi Arabia's alleged funding into Islamic terrorism in the UK.
Humanitarian crisis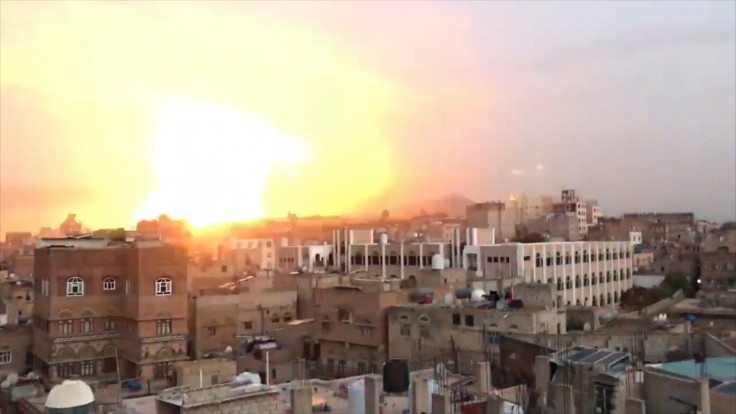 The UN estimated that the conflict has killed at least 10,000 people.
Some 12 million people are facing hunger in the country. Nearly 3.3 million people – including 2.1 million children – are acutely malnourished.
The UN estimates that a child under the age of five dies every 10 minutes in Yemen from preventable causes. Two million people are believed to have fled fighting and only half of hospitals throughout the country have enough staff and supplies to function properly.
Humanitarian organisations have said nearly 80% of Yemeni children need immediate humanitarian assistance.
A cholera epidemic is also threatening the lives of hundreds of thousands of people. In June, aid organisations said the epidemic was killing one person every hour.
Cholera is a highly contagious bacterial infection spread via contaminated food or water.
At least 2,000 people have already died due to the epidemic and another 400,000 people have been infected.
"Cholera has spread unchecked in a country already on its knees after two years of war and which is teetering on the brink of famine," said Nigel Timmins, Oxfam's humanitarian director.