This heartbreaking video clip shows the world's last male northern white rhino "waiting for extinction".
Conservation charity Helping Rhinos shared footage online of Sudan, who previously joined Tinder as "the most eligible bachelor in the world", sitting alone in his reserve.
There are just two females left in his sub-species, which is "all but extinct" and the rarest mammal in the world, according to the charity.
Helping Animals said on 9 November: "This is what extinction looks like. The last male northern white rhino, Sudan. But we're not giving up......."
Sudan and his female relatives, Najin and Fatu, neither of whom were able to breed successfully, live at the Ol Pejeta Conservancy in Kenya, where they arrived from Dvur Kralove Zoo in the Czech Republic in December 2009. It was hoped that the climate and rich grasslands in Ol Pejeta, a native habitat for the rhinos, would improve their chances of breeding.
The lonely male rhino joined dating app Tinder earlier this year as he is unable to breed naturally with either of his female companions, although he has previously fathered three calves in captivity. However, scientists are currently looking into IVF to keep the northern white rhino genes alive.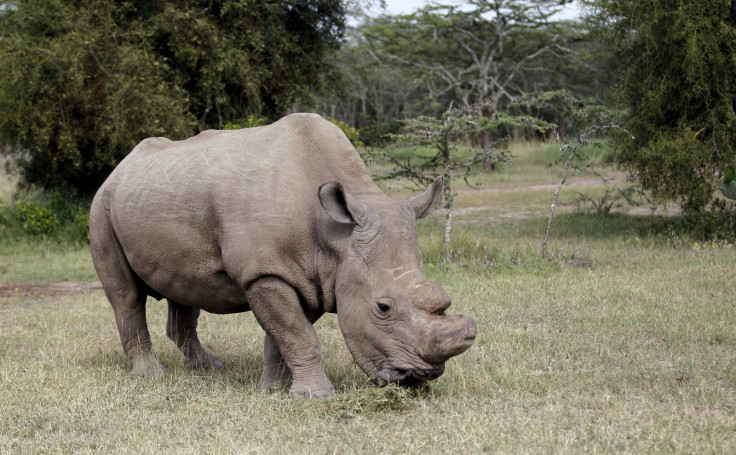 His profile read: "I don't mean to be too forward, but the fate of my species literally depends on me. I perform well under pressure. I like to eat grass and chill in the mud. No problems. 6ft tall and 5,000 pounds if it matters."
Sudan, who is 43 (roughly 100 in rhino years) also won a huge amount of attention on Twitter this week when biologist Daniel Schneider shared a photo of Helping Rhinos' clip. "Want to know what extinction looks like?" he said. "This is the last male Northern White Rhino. The Last. Nevermore."
And when the heartbreaking photo was shared on Reddit, it was said that Sudan was "waiting to go extinct".
People also shared their sadness on Twitter. One woman said: "He knows... perhaps. He looks so sad, his eyes say everything. Thanks for sharing." Another said: "Humans are a plague."
Helping Rhinos is asking people to adopt Sudan, Najin or Fatu to help save the sub-species.