WARNING: Graphic images of animal cruelty that may cause distress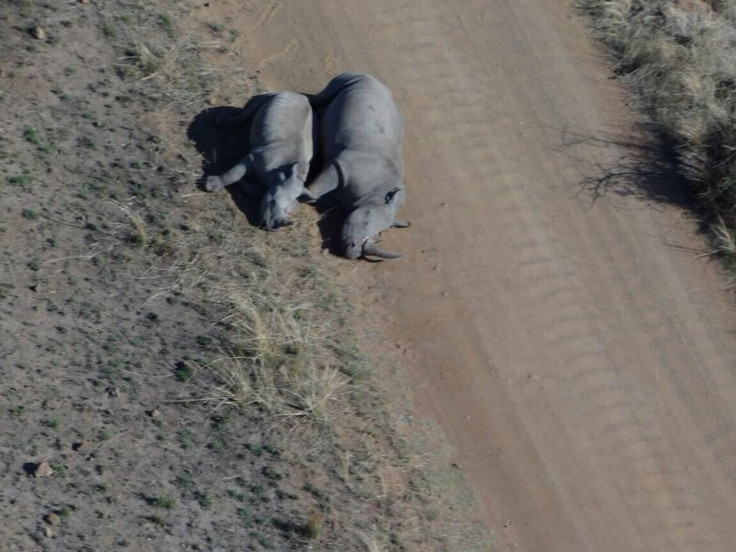 A pregnant rhino and her calf have been brutally killed by poachers in South Africa.
The mother had been roaming on grounds in Pilanesberg National Park in Mogwase , a north-western region of the country, when the animals were gunned down in a savage attack.
Park rangers were able to scare off the poachers before they could make off with the animals' prized horns.
While the mother rhino and her calf were instantly killed in the attack, staff at the park desperately tried to save the unborn calf, however, tragically it died inside its mother's womb.
Images of the dead animals were posted on the Pilanesberg National Park's Facebook page, demonstrating the savagery and vile inhumanity of the poachers. Staff said they are "devastated" by the loss.
The park wrote on their Facebook page: "There are no words. Mom and calf shot and killed by poachers. Horns are still on as the murderers fled the scene when they heard a game of drive approach. Mom looks very pregnant as well. We are devastated."
A spokesperson for the park told MailOnlinethat the calf was due in February next year.
Rhinos are an endangered species with over 6,000 shot dead for their horns in the last decade in Africa alone.
The killing of the rhino family is the latest loss for the Pilanesberg Park. "We have lost 16 rhino and 3 unborn calves so far in 2017 that we are aware of," a spokesperson said.
"This loss is not due to lack of interest or effort from Park management, as this is a large park with many valleys and hills, which is a difficult territory to operate in."
The Pilanesberg Park have offered a reward for any information that could lead to the arrest of the poachers.
Earlier this evening, Prince William who is an ardent campaigner for wildlife conservation appeared to get emotional as he delivered a speech condemning the 'barbaric' illegal wildlife trade at the Tusk gala dinner in London.
The royal, 35, said 'a lot more work' was needed to reverse the threat faced by many species, including the rhino, lion and pangolion, Mail Online reports.
"For many of you, you will have heard me talk about the illegal trade before. It is barbaric, it destroys livelihoods and communities, and it supports organised crime.
"The world is a worse place for it, and we must stamp it out. I have always argued that, while the problem is serious, it is beatable."
William added: "We are going to have to work much harder, and think much deeper, if we are to ensure that human beings and the other species of animal with which we share this planet can continue to co-exist."