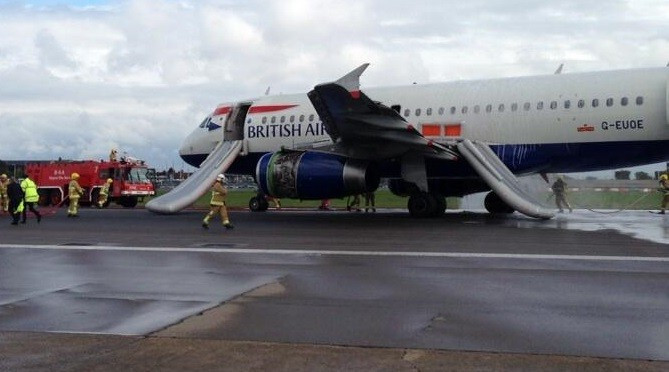 Heathrow airport has warned that there could be delays and cancellations throughout the day after a British Airways plane was forced to make an emergency landing.
This morning, dozens of flights to Frankfurt, Paris, Copenhagen, Washington and many flight to Britain have been cancelled, with more expected throughout the day.
Other flights are also experiencing delays of up to four hours as the airport deals with the incident.
The northern runway remains closed after flight BA762 to Olso was forced to land soon after take-off after losing one of its engines. All 75 passengers and crew were safely evacuated safely, but three sustained minor injuries.
Passengers hoping to travel from Heathrow at the start of the bank holiday weekend are advised to check the status of their flight with their airline before travelling to the airport.
It is believed one of the engines caught fire after flying into a flock of birds. The London Fire brigade confirmed they attended the scene at the airport to extinguish the flames.
Amateur footage of what appears to be the plane flying with smoke trailing behind it has also emerged.
Met Police confirmed it is not been treated as a terror-related incident.
BA said they are investigating the incident.
The company said: "BA 762 Heathrow to Oslo returned back to Heathrow shortly after take-off due to a technical fault. Aircraft was an Airbus AC19 carrying 75 passengers.
"Aircraft landed safely, emergency slides were deployed. Emergency services attended the aircraft.