Helena Morrissey CBE, CEO of Newton Investment Management, is incoming chairman of the IMA, the asset management industry trade body whose members collectively oversee "about" five trillion pounds. Yes, five trillion. She is using her "soft power" to drive big change.
Given that Morrissey is famous for setting up the 30% Club to get more gender diversity onto boards, I expected us to have a chat about diversity in the asset management industry.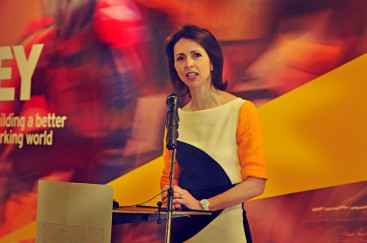 But her ambitions are much, much bigger than gender balance. For a start, she hopes to give other chief executives permission to make better long-term decisions. "We almost have to have a pact that allows our clients to judge us over three to five years - and for them to then give us a mandate to judge the companies we are investing in, based on their strategy, not each quarter's results."
Beyond that she is driving a raft of changes to modernise the sector: delivering greater transparency about fees (in pounds and pence not base points), making the industry more socially useful, encouraging the industry to speak up for itself, creating a code of excellence, introducing a Board confidence index to score performance, improving financial education and flagging concerns about companies in trouble to the regulator.
On the final point, she has an interesting take on the Great Crash of 2008:
"I'm not claiming Newton analysts saw everything... but we pulled our investment out of Northern Rock after seeing the management believing its own propaganda. We went from being the single largest shareholder in 2002 to sold-out completely by 2005 because we thought the funding model was dangerous. We didn't know it would crash but we did think they had got a bit carried away. Afterwards people said no one had spotted the problems but did - only we never told anyone! There is an argument for having an informal link to the regulator to flag issues."
Morrissey talks at pace, dropping more names and acronyms than I can track and covers everything from our collective financial health to the damage that surplus testosterone – unbalanced by having some women in the picture – wreaks in boardrooms: "Men put bets on the table that came off. So they took bigger and bigger bets until it blew."
Morrissey is surprised to have been handed a mandate for change. "I'm not a dictator, we need people who want to do it. Soft power - even if it's a bit discredited in military terms - is my preferred modus operandi. The danger though is that people want a diverse board, but all want to keep their own seat. And, ideally, I'd want a slightly smaller board anyway."
It was the 30% Club's creation that awakened in Morrissey a realisation that her 'unthreatening' style could have a real impact. A chairman she dealt with said "You slightly conned us. I thought you were part of the establishment but you turned out to be quite disruptive". She smiles.
"I've learned that change doesn't happen by people saying 'something needs to change'. It takes a change in mindset. When we started the 30% Club we got a few chairmen who we knew to sign up. Then I heard that others were upset about not having been invited. But by the time I'd invited those, up to the letter 'H', I gave up because of the letters coming back saying 'leave me alone'. I kept those letters – it is heartening how many have come around since".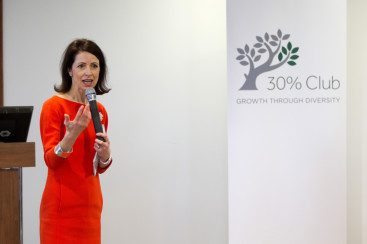 She says she needs more allies than she thinks – "because the naysayers can be the strong voices that shout down everyone else". Round robin emails and late night calls can quickly shift the mood on an issue. "Individually and privately people will say one thing, and when it comes up later it turns out they think something different."
The going will not be easy. "I have to be open to fair criticism but you also have to know that some of what people say comes their own psychological make-up. I don't want to be perceived as always making trouble."
To this point, she recounts attending a conference in Hong Kong, called The Hand That Rocks the Boardroom Cannot Rock the Cradle, where she talked about being a mother – of nine children – and a CEO. "A woman from Linklaters said 'I just don't see how you could be a good mother'." I felt quite upset. I was thinking 'oh for goodness sake, you don't even know me' but I said 'Well it's not for me to say but maybe we should fix the brutal hours culture'. It was a really low moment."
But the flak will not deter her from posing very big, crucial questions: Has banking reform gone far enough? Is there too much groupthink? Are we at risk of another crash? Not everyone will thank her for asking. Especially as I suspect she already has the answers and it's not good. But I, for one, am glad she is taking charge.
Christine Armstrong is a contributing editor of Management Today, author of Power Mums (interviews with high-profile mothers) and founder of www.villas4kids.com
She can be found on Twitter at @hannisarmstrong