The survivor of a brutal shark attack in the Bahamas has spoken about her terrifying ordeal and how the predator stared at her with "dark beady eyes" while her arm was in its mouth.
Tiffany Johnson, 32, was snorkelling with her husband James, or JJ, off Nassau while on a cruise in May when she felt a tug on her right arm. JJ had returned to the boat and she was only 10 feet away admiring coral reef, in an area where sharks had never been seen before, when the attack happened.
Speaking to a West Virginia church congregation earlier this week, Johnson relived the terrifying experience. According to Williamson Daily News, she said: "When I turned to my right, I was face to face with the shark. He had my whole arm in his mouth...Of course, fear just fell over me. He just stared at me. He wasn't thrashing.
"Just staring at me with my arm in his mouth with these dark beady eyes that were just darting everywhere then staring, darting everywhere then staring. It was just this evilness, and it felt like time stood still."
Johnson, a mother-of-three who lives in North Carolina, pulled her arm free but half of it stayed in the shark's mouth. She quickly swam away, met by her husband who had jumped back into the water when he saw it turning red with blood. They made a tourniquet out of a beach towel, the only suitable thing on the boat, and made the 30-minute trip back to the island.
Johnson credited God with the fact she is still alive today. The first thing she shouted as she came up out of the ocean was "help me, Jesus, help me!" And she said: "I felt the prayers of the Holy Spirit interceding as I was in the water."
She was overcome with a strange peaceful feeling in the boat, despite the risk of bleeding to death. "It was like a thick, tangible cloud," Johnson told the New Life Church congregation. "I've never experienced anything like it. When the Lord says a peace that surpasses all understanding, that was it. I was living that. I remember looking at JJ, no tears, no shock, no panic, just in this same tone of voice I said, find me something to stop the bleeding."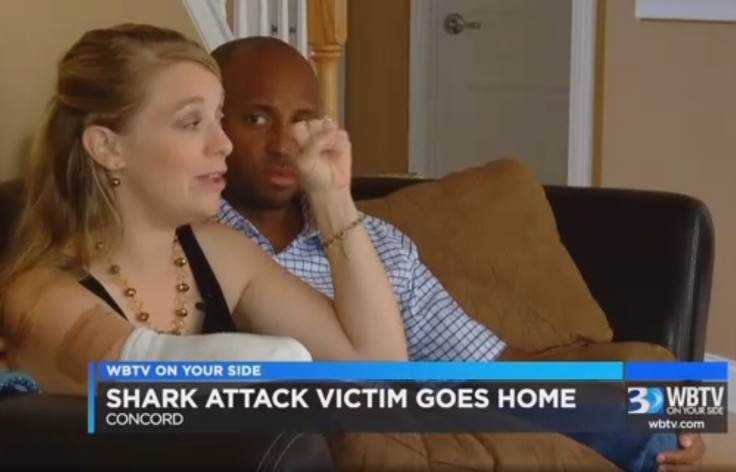 Once in hospital, Johnson needed to go back to the US urgently as the island was badly equipped; there was no pain management and the surgeon was unable to close her wound due to the swelling. Due to a med-vac helicopter company giving the couple a $16,000 evacuation all the way home to Charlotte for free, Johnson was able to start her recovery which she credits to her faith in God.
She now has a fully-working prosthetic following a targeted muscle reinnervation, which lets her brain control the actions of her new limb. A GoFundMe page raised almost $30,000 towards her medical costs.