Here Are the 10 Best Montessori Practical Life Toys in the UK
This article uses affiliate links, which means if you purchase products through these links, we may earn a commission. Click here to see our
T&C
. For licensing please click
here
.
Are you a parent or educator who values hands-on learning and independence in children's play?
If so, you're in the right place! We've got a treasure trove of Montessori-inspired toys to explore. From our top pick, the engaging Rainbow Neon Pink Classic Stacker by Grimm's, to a carefully curated selection based on reviews and popularity, we've compiled a list of the 10 Best Montessori Practical Life Toys in the UK.
Get ready to embark on a journey through the world of educational, trendsetting, and delightful toys.
Rainbow Neon Pink Classic Stacker by Grimm's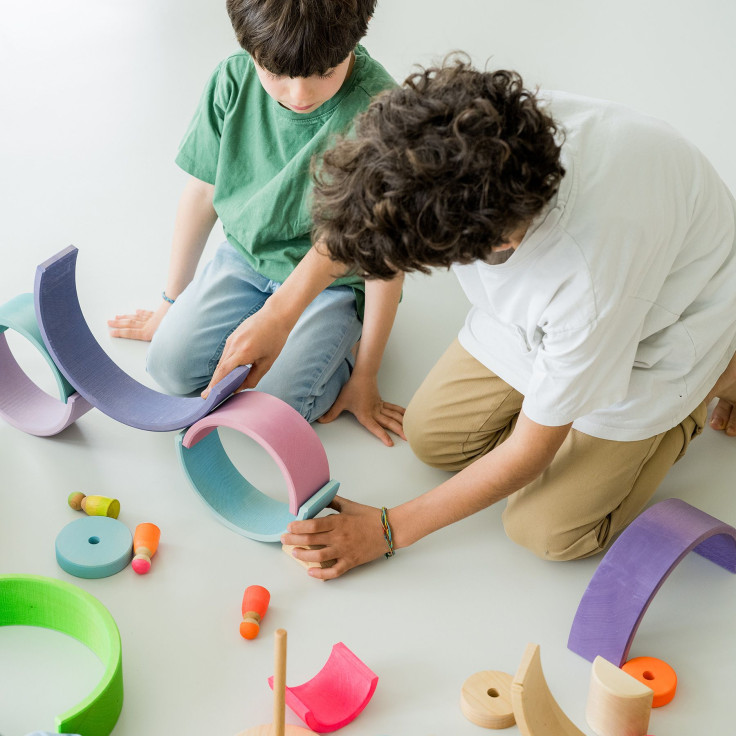 (The neon collection from Grimms) | Photo from Grimm's
Our number one choice is the Rainbow Neon Pink Classic Stacker by Grimm's, a true masterpiece of open-ended play. With its delightful hues and the freedom it offers, the Rainbow Neon Pink stacker inspires limitless creativity and exploration. As the creators say, it invites you to play freely and learn through curiosity – a Montessori favourite that encourages motor skills.
The Rainbow Neon Pink Classic Stacker is not just a toy – it's a tool for holistic child development. It's designed to engage a child's senses, stimulate their imagination, and foster problem-solving skills. The ten arches can be used depending on the child's stage of development: for stacking and sorting, integrated into free play as a tunnel or doll's cradle or for challenging building. Inspiration is available daily on Instagram: @grimmswoodentoys.
PlanToys Wooden Fruit and Vegetable Play Set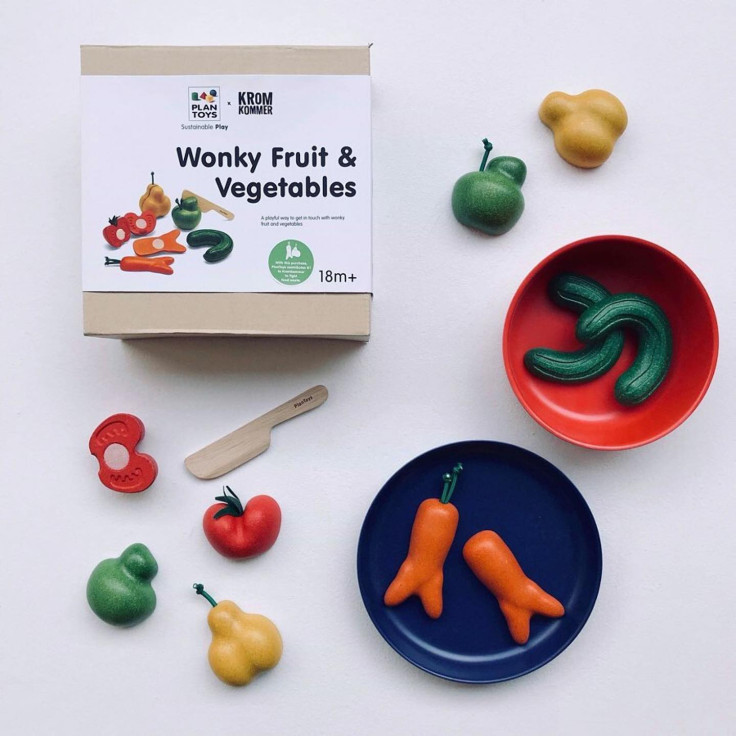 ( 5 sliceable pieces of produce: an apple, pear, carrot, tomato and cucumber) | Photo from Plan Toys UK Official Facebook Page)
Encourage a love for healthy eating and basic culinary skills with the PlanToys Wooden Fruit and Vegetable Play Set. This set is made from sustainable rubberwood and promotes sorting, cutting, and imaginative role-play. Each piece is meticulously crafted, providing a sensory-rich experience for children as they explore different textures and shapes. This set includes a pretend play knife and five sliceable fruits and vegetables.
Hape Kid's Wooden Shopping Cart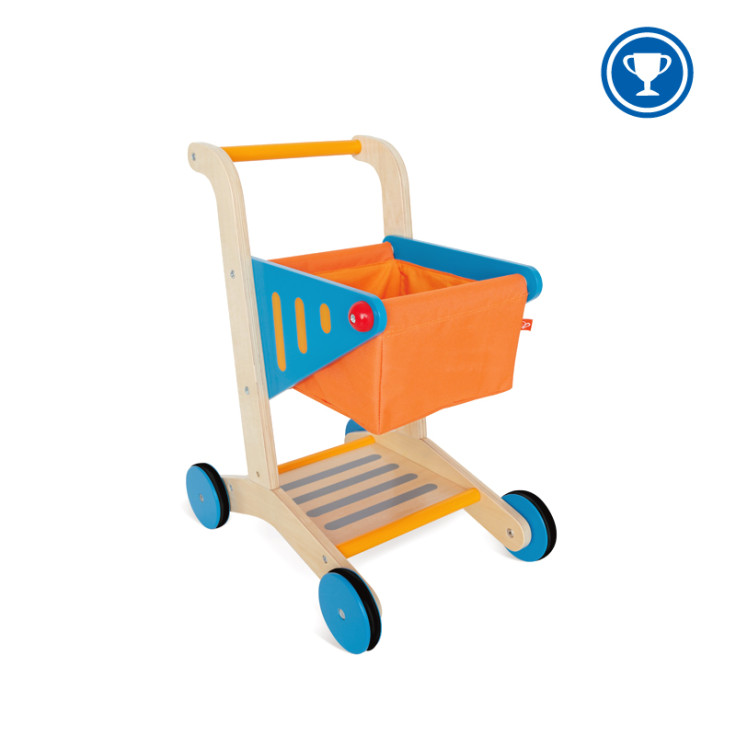 (Sturdy shopping cart for Kids) | Photo from Hape UK
Teaching responsibility and practical life skills has never been so much fun! The Hape Kid's Wooden Shopping Cart is a sturdy and stylish option to help your child develop motor skills and learn about grocery shopping. It's a realistic miniature shopping cart that allows children to engage in imaginative role-play, whether they're the shopper or the cashier.
Hape Quadrilla Marble Run Construction Set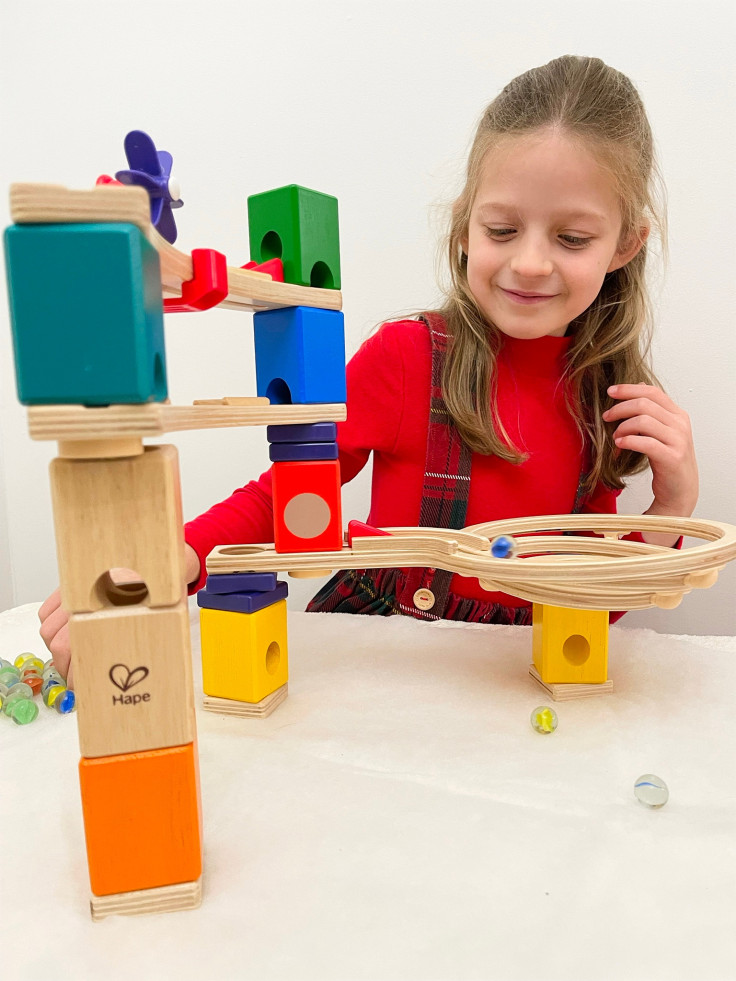 (Quadrilla set from Hape) | Photo from Hape UK Official Facebook page
Also from Hape, this Marble Run Construction Set offers a unique twist on problem-solving and engineering skills, making it a must-have. This beautifully crafted wooden set promotes critical thinking and creativity. Children will delight in building intricate marble-run structures, experimenting with gravity, and developing their spatial reasoning.
Bakery House from Wonderland Nook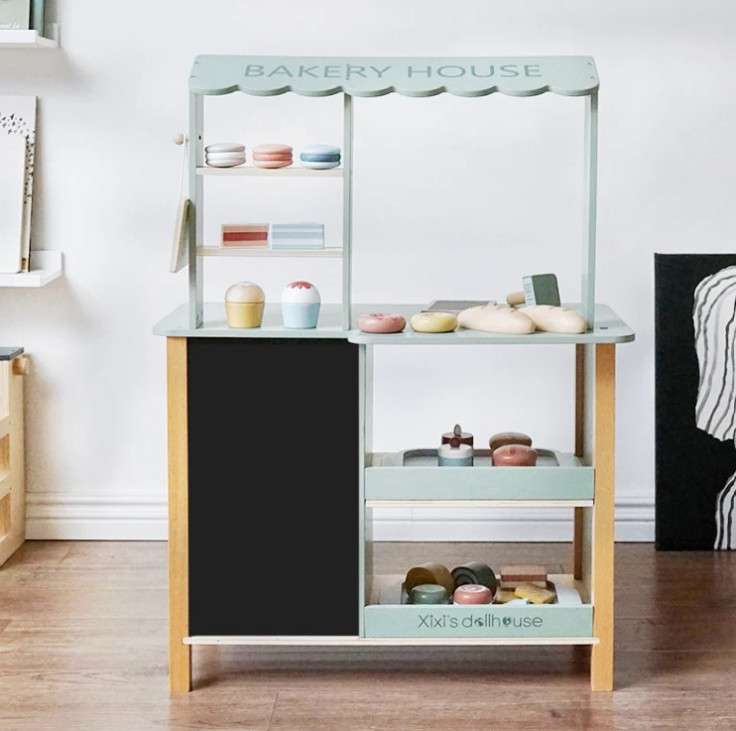 (Pretend and Play bakers stall set) | Photo from Wonderland Nook)
At Wonderland Nook, you can feel the essence of British tradition, offering classic wooden toys with a modern twist. Whether you're seeking a gift for a birthday, a special occasion, or just because, you'll discover a wide range of options that cater to various age groups and interests. They take pride in promoting sustainable practices and supporting local artisans. Many of their toys are handcrafted by skilled craftsmen in the UK.
Dinner Basket from Learning Resources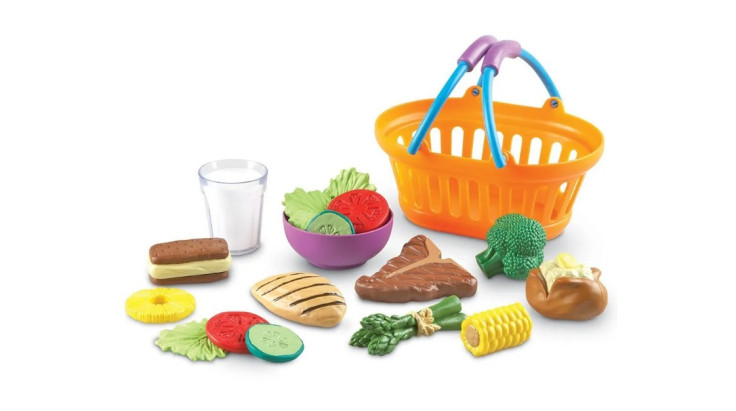 (Evening meal play food set with role play foods) | Photo from Learning Resources
For budding chefs, the Learning Resources New Sprouts Dinner Basket is a fantastic Montessori toy. It allows children to explore imaginative cooking and gain a deeper understanding of food groups. The set includes a variety of play food items, including vegetables, fruits, and proteins, encouraging creative meal preparation and role-play.
KidKraft Waterfall Mountain Train Set and Table from Kidkraft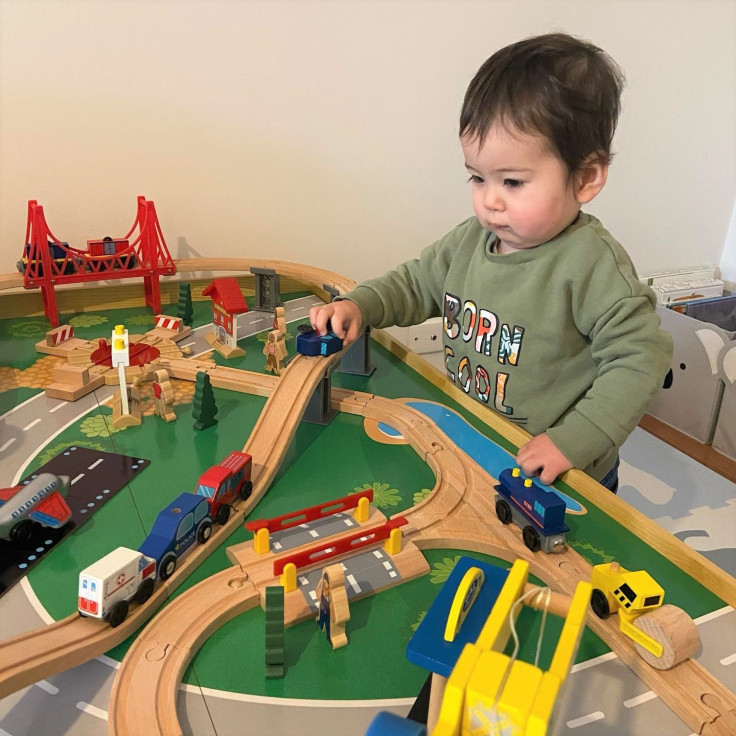 (A kid playing with the waterfall mountain train set and table) | Photo from Kidkraft)
Let your child's creativity flow with the KidKraft Waterfall Mountain Train Set and Table. This immersive toy encourages fine motor skills and imaginative play, making it perfect for Montessori learning. The set comes with a train track, mountain scenery, and a storage table, providing an all-in-one play area for hours of interactive and imaginative play.
Wooden Railway System from Bigjigs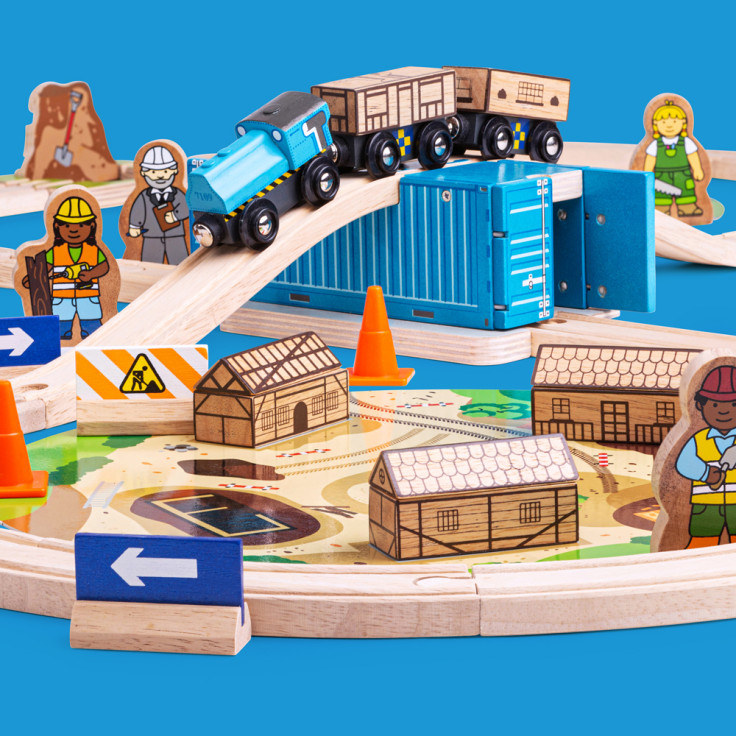 (Bestselling extensive wooden railway range) | Photo from Bigjigs
Jump aboard the Bigjigs® Rail adventure! This will hone the young ones in building, creating, and playing through this extensive wooden railway collection. Connect the tracks to form incredible layouts, or dive into the world of imaginative play by combining the enchanting dinosaur and fairy accessories with classic train tracks. These toys are crafted primarily from Rubberwood and are fully compatible with other top-notch brands.
Honeybake Cafe Machine from Le Toy Van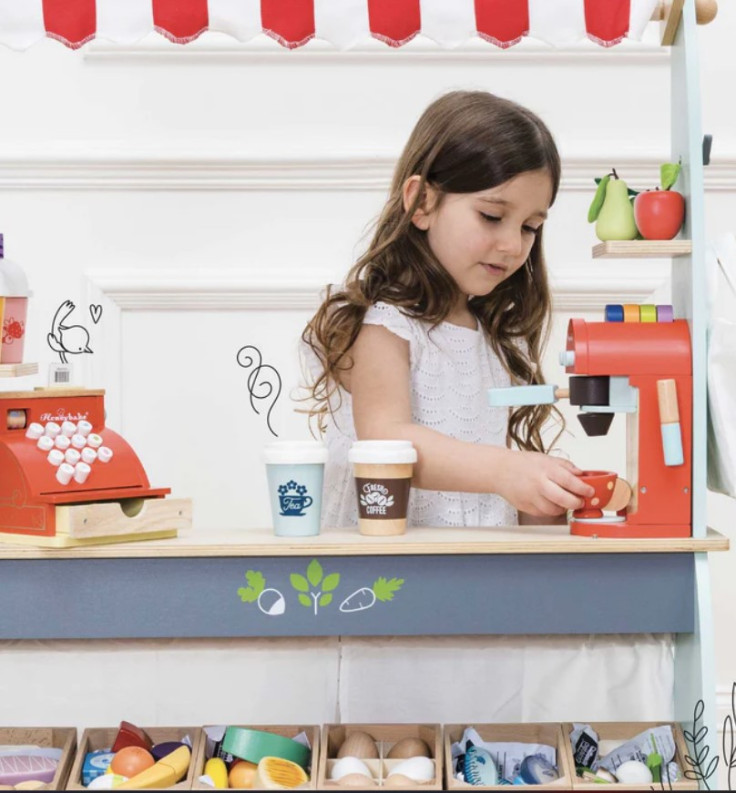 (A kid playing with the wooden coffee machine) | Photo from Le Toy Van
The Le Toy Van Honeybake Cafe Machine is perfect for budding baristas. This wooden coffee machine encourages imaginative role-play, fine motor skills, and early social skills. Children can pretend to make coffee, practice serving, and engage in interactive play with friends and family.
Magnetic Wooden Block Set from Tegu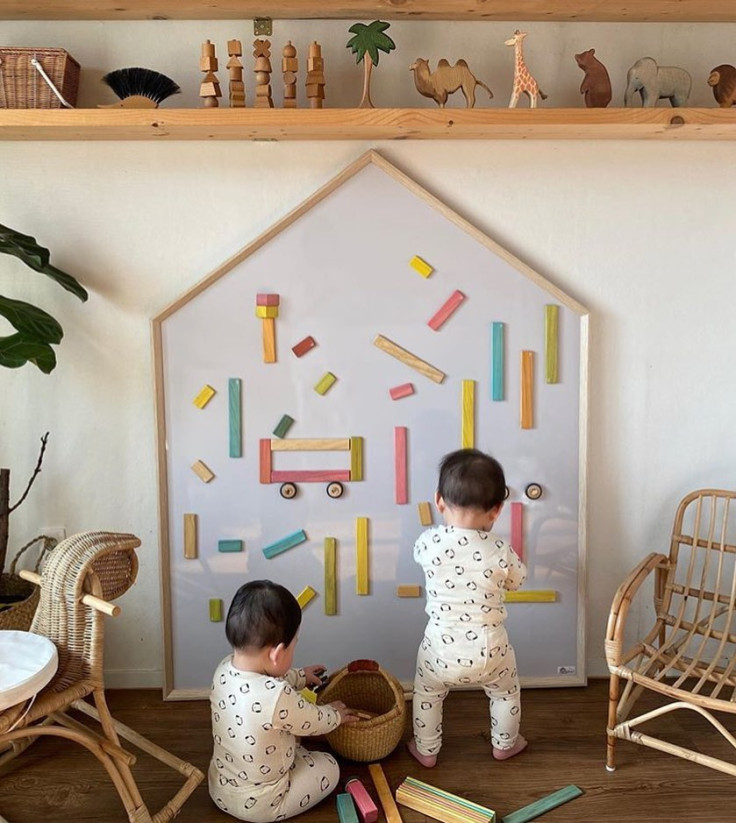 (2 kids playing with magnetic wood blocks) | Photo from Tegu's Official Facebook page
Foster your child's problem-solving skills and creativity with the Tegu Magnetic Wooden Block Set. These magnetic wooden blocks provide endless possibilities for open-ended play. They can be used to build structures, create intricate designs, and encourage free-form exploration. The magnetic aspect adds an extra layer of fascination to this exceptional toy.
Why Montessori-Inspired Toys?
When children engage with Montessori-inspired toys, they get the freedom to explore at their own pace, make choices, and learn through personal experiences. These toys often come with simple yet captivating designs that engage their senses and ignite their creativity. Most importantly, they help kids develop fundamental skills like fine and gross motor skills, problem-solving abilities, language proficiency, and social interaction.
Montessori-inspired toys aren't just about having fun; they're about nurturing all aspects of a child's growth – cognitive, emotional, and physical. They help children become well-rounded individuals, equipping them with the skills and confidence they need to thrive in school and in life.