A Scottish bus driver has become an unlikely hero after she narrowly avoided crashing into traffic while travelling on an icy road.
Charmaine Laurie's quick thinking and nimble driving were caught on camera as she swerved her bus out of danger's way, potentially saving the lives of passengers inside.
The incident occurred on Wednesday afternoon (28 February) at Frogston Brae, Edinburgh, as Scotland was gripped by the so-called "Beast from the East", which was accompanied by heavy snowfall and sub-zero temperatures.
The dramatic viral video has notched up 200,000 views since publication and has thrust the unsuspecting 45-year-old into the limelight. On Monday, she appeared on Good Morning Britain to talk about the close call.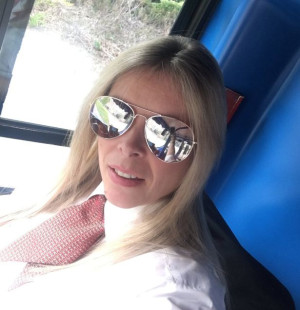 Laurie says she was first alerted to the footage by her husband and was unaware it was circulating the internet.
She said: "It's quite a funny story because I was running late because of the weather and my husband picked me up. He said to me 'have you seen the footage of the bus driver that just missed the car?'"
"And I was like 'funnily enough, something like that happened to me today'. And he was like 'oh, you're joking' and he kind of like dismissed what I was talking about and then kept going on about this."
"He went into the shop and I looked at the video on Facebook and then I was like: 'Ah, that was me, that was me!' So it was quite funny."
Gareth Smith, who recorded the footage, says he was near-certain the double-decker would smash into his van.
In the clip, 22-year-old Smith is heard shouting in the background as he attempted to reverse his vehicle out of the way of the oncoming bus but was left unharmed as it drove past.
Smith said: "I was stuck on the hill trying to get my van moving when I saw a black car overtaking me.
"It skidded onto the wrong side of the road and then I then saw a Lothian bus coming down the hill losing control and drifting past the black car, just missing it and me."
Social media users have praised the quick thinking of Laurie. Oskar Bravo said: "That bus driver is a PRO!!!"
"Just saw this on the Beeb, what was the driver doing? Trying to turn, that bus driver is a legend!", another said.
Laurie said she was driving quite slowly at around 20-30mph and thinks the incident looked more dramatic on-screen. She also credited her swift reactions to training she received while on the job.
"We train for all types of conditions," she told the Evening News. "You come across all different obstacles, public walking out in front of you - you have to be ready for whatever."