Taraji P Henson, Janelle Monae and Oscar-winner Octavia Spencer star in Theodore Melfi's biographical comedy drama Hidden Figures. Based on an inspirational true story, it follows the careers and lives of three African-American women, who became pivotal in launching the program's first human spaceflight mission in 1962.
Our verdict
Biographical films tend to fare well at the Oscars. You've only got to look back a few years to find evidence; The Iron Lady, Lincoln, Selma, Spotlight and The Revenant. But there's one thing those films have in common and it's that, while undoubtedly brilliant, they all have a pervading darkness about them. Therefore, to be more accurate, non-fiction drama does well.
Perhaps this is why Hidden Figures is regarded as a rare gem this awards season. As a story almost wholeheartedly about triumph, it bucks recent trends – even daring its viewers to describe it as feel-good, which many justifiably have.
It follows Katherine Johnson (Taraji P Henson) and her two friends, Mary Jackson (Janelle Monae) and Dorothy Vaughan (Octavia Spencer), who all work for Nasa as part of the company's computing division. Each have their own area of expertise, with Goble being a mathematical genius, Jackson with a keen eye for engineering and Vaughan having a natural aptitude for managing people along with any technological machine you throw her way.
Despite their undeniable talents, the women have been limited in their careers due to both their gender and the colour of their skin, a problem not helped by Nasa – it's oldest field centre was based in the conservative state of Virginia. But things start to change when Russia gets a jump on the US in regards to space travel and the program's big bosses realise they'll have to utilise the best employees if they're ever going to level the playing field.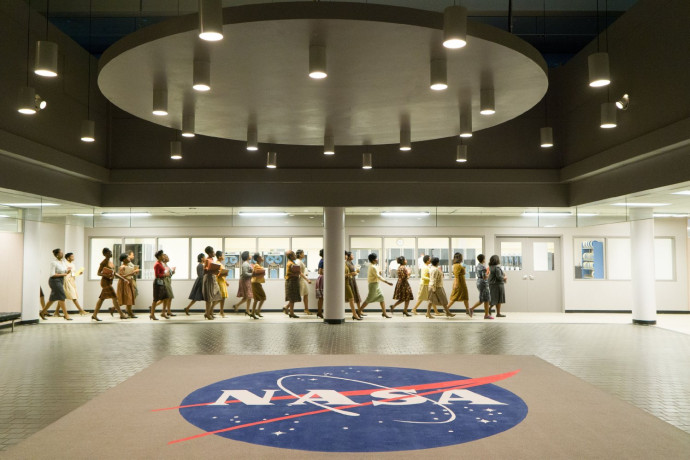 As job roles shift, Katherine is promoted to a member of Nasa's elite Space Task Group, working under hard-to-please director Al Harrison (Kevin Costner) as they strive to send astronaut John Glenn into orbit. Elsewhere, Jackson challenges judicial law in order to take engineering night classes at the behest of her encouraging superior and Vaughan successfully comes to grips with the program's new operating systems after she's told that the department might soon become obsolete.
It's all very inspiring but it also seems unlikely that these women achieved greatness with the relative ease that is depicted onscreen. Then again, unlike most biopics, screenwriters Melfi and Allison Schroeder benefit from telling a story that not many will be familiar with prior to seeing the film.
Free from the constrains of responsibility – and the subsequent judgement of those who look out for historical accuracy – the writing duo bent and elaborated aspects of the real-life tale, allowing for an impossibly entertaining outing and a trio of likeable leads. Succinct in the knowledge these events actually took place, one can overlook the fact that the scriptwriters resorted poetic license to tell a good yarn. Heck, how else could they have Pharrell Williams doing a pretty modern-sounding soundtrack on a World War II period piece and get away with it?
It's helpful that the acting trio sell the somewhat saccharine story well too. Spencer exudes warmth and composure as Dorothy, presenting a quietly powerful woman who refuses to take no for an answer. Meanwhile, Mary is a lot more outspoken and effortlessly cool singer-turned-actor Monae's performance deftly teeters the line between overconfidence and anxious reserve.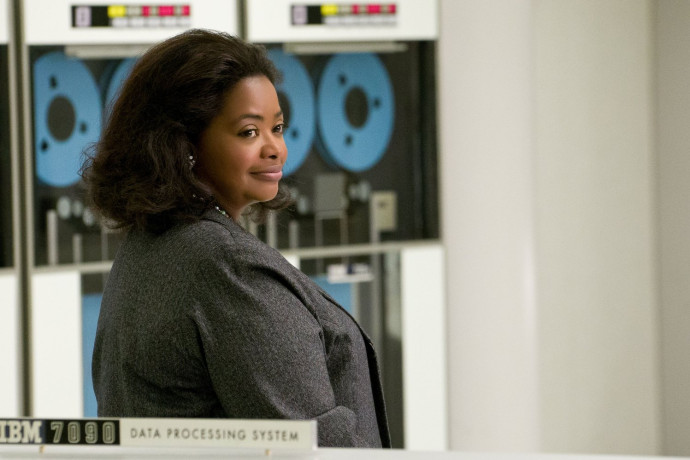 Thanks to Katherine's arc being the most predominant in the film, Henson is tasked with the most emotional scenes. In one standout sequence, Katherine is forced to stick up for herself against peers in the task group, calling them out when they refuse to drink from the same coffee pot as her and fail to acknowledge she has to run miles to the segregated bathroom every day. It's immensely moving, thought-provoking stuff but her range is really proven in the juxtaposing, lighthearted moments.
Unfortunately, albeit understandably, the supporting characters aren't given so much to work with. Jim Parsons' head engineer is reduced to nothing more than a snarky racist, who consistently undermines Katherine's hardwork, and Kirsten Dunst makes an appearance as a slightly softer yet relentlessly poe-faced supervisor. Others do their best with the little material they have, mind you...
Mahershala Ali, for example, gets the balance between hunk and hokey just right in his portrayal of smooth army officer Jim, providing the film with just a hint of welcome romance. Similarly, Costner manages to elevate his character from the difficult boss cliche to present a surprisingly sympathetic professional who is more concerned about doing a good job than judging someone for their race.
For all the fun, Hidden Figures is not without deeper meaning and includes scenes that are much more focused on drama. It never skirts around the themes of race inequality and sexism, in fact it addresses them quite boldly. But it's evident that Melfi's focus was to tell a story of accomplishment to inspire, not enforce stereotypes and feelings of pity.
Could this mark a return to the alternative 'chick flick'? Devoid of makeovers, stereotypical heart-throbs, awkward narration and 'boy meets girl' tropes, it is full to the brim with empowering, educating and poignant messages aimed at, and about, awesome women. If the three central ladies have taught us one thing... it's that anything, regardless of how unlikely it seems, is possible.