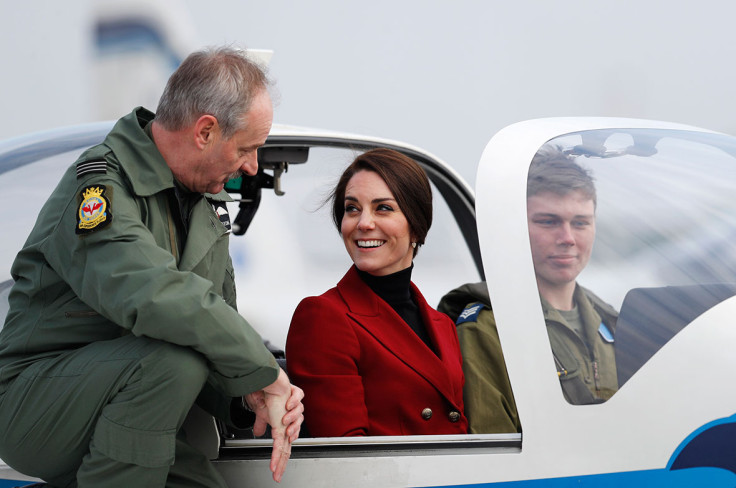 The Duchess of Cambridge gave a nod to Valentine's Day by wearing the colour red for her royal engagement at the RAF base in Cambridgeshire to meet with the RAF Air Cadets.
Kate Middleton, 35, was in high spirits for her V-Day appearance as she enjoyed privileged access to the tutor aircraft in which generations of cadets have had their first experience of flying.
With her husband Prince William's career history as a rescue pilot and son Prince George's early interest in aviation, the duchess ensured her time in a plane got off to a flying start.
In her role as royal patron and Honorary Air Commandant of the RAF Cadets, Kate saw the aircraft on her visit to the base in Wittering near Peterborough on the solo visit, spending the romantic holiday away from her husband of six years.
The duchess was talked through the controls of the Grob tutor – a light aircraft in which cadets use each year for air experience – by Cadet Sergeant Jordan Bertolaso, a qualified aerospace instructor.
Honoured to be teaching the duchess, he said: "It's incredible to have such a high-profile royal as our patron, especially as she has strong links to the Royal Air Force with her husband being a former pilot."
Middleton drove the airplane without leaving the ground during her time at the Air Cadet skills development camp, looking every inch her stylish self in a fitting scarlet double-breasted blazer by Philosophy di Lorenzo – which retails at £760. She aired the statement gold-buttoned jacket with a black rollneck sweater, skinny jeans and knee-high boots, showing off her long and lithe legs.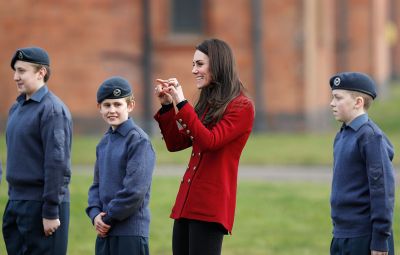 And the duchess didn't fall short on accessorising for her daytime engagement, adding a pair of £2,200 gold and diamond leaf earrings by Kiki McDonagh to give the outfit some flight.
The duchess met and chatted with air cadets from the Bedfordshire and Cambridgeshire Wing Air Training Corps, who are taking part in the half-term skills development camp which is designed for trainees in their first six months of membership.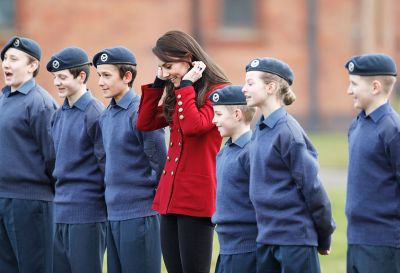 As patron of the organisation, Middleton now represents 42,000 air cadets aged 12 to 19, along with 15,000 adult volunteers at more than 1,200 units across the UK and abroad.
Group Captain Richard Pratley, RAF Wittering Station Commander, also said: "It has been an honour to welcome Her Royal Highness, the Duchess of Cambridge to RAF Wittering to see some of the facilities we offer to cadets to help inspire the next generation."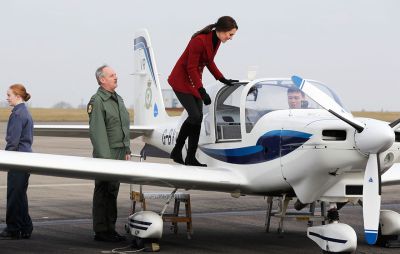 The royal's solo appearance comes just two days after her red carpet debut at the 2017 Bafta Awards alongside Prince William in a glamorous floor-length floral gown by Alexander McQueen. Middleton rubbed shoulders with the likes of La La Land star Emma Stone and Moonlight actress Naomie Harris at the star-studded event held at the Royal Albert Hall.