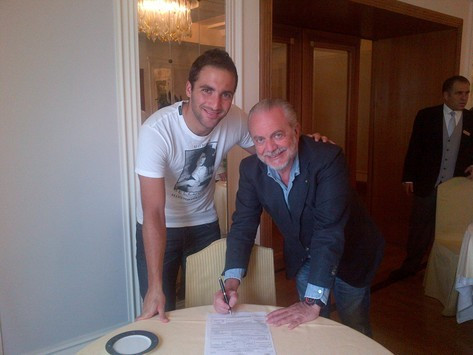 Napoli new boy Gonzalo Higuain has revealed the reason for moving to Serie A ahead of joining Arsenal.
The Argentina international has become the latest addition made by Rafa Benitez this summer for a reported €40m from Real Madrid.
Higuain was heavily linked with a move to Arsenal for much of the summer but became a target for Napoli following Edinson Cavani's move to Paris Saint Germain.
And Higuain says he took little convincing to become the latest addition for last season's Serie A runners-up.
"The president (Aurelio De Laurentiis) and (Rafael) Benitez took very little time to convince me, I spoke with my Argentine friends who have been to Naples and they told me beautiful things about the city and fans," he said.
"In this city the devotion to Maradona is huge, I have felt the affection of the fans since my arrival. I chose Naples together with my family because I like the challenge and I find it inspiring.
"We want to fight for everything, we have a great team and a great manager. We know that Juventus are favourites for the Scudetto but we can achieve this objective."
The former River Plate forward became the seventh new signing of the summer for Napoli, joining the likes of Dries Mertens and Pepe Reina as Napoli seek to go one better during the 2013/14 season.
For Arsenal however, Higuain represents another near-miss in the summer transfer window which is failing to live up to expectations.
Despite chief executive Ivan Gazidis pledging the club have significant resources in which to spend on new players, only 20 year old striker Yaya Sanogo has joined from Auxerre.
A myriad of Arsenal players have been quick to demand the club splash out on new players, but Arsene Wenger has suggested the club's current squad is capable of challenging for the title.
Arsenal secured qualification for the Champions League on the final day of last season, defeating Newcastle United to finish ahead of north London rivals Tottenham Hotspur.