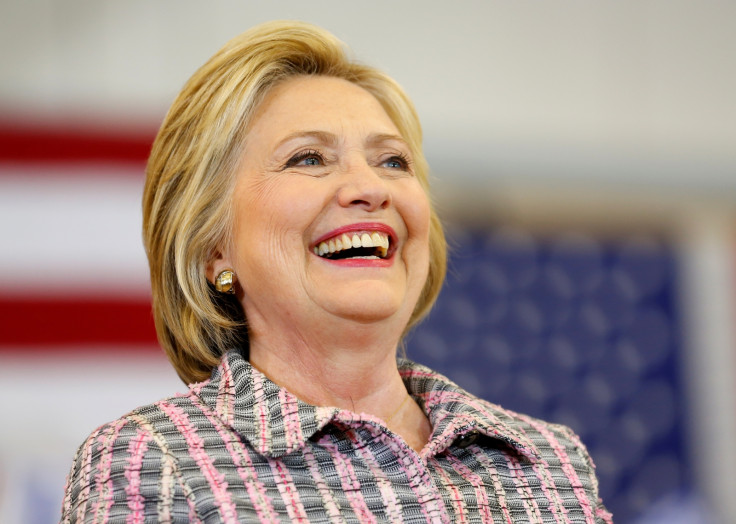 Hillary Clinton snapped up an easy primary win in Puerto Rico, bringing her to within 30 votes of what she needs to clinch the nod to become the Democratic presidential candidate. "We just won Puerto Rico! ¡Gracias a la Isla del Encanto por esta victoria!" Clinton tweeted after she was declared the winner by Associated Press.
She tweeted from a campaign rally in Sacramento, California, where a win in the big state would definitely put her over the top. Rival Bernie Sanders was also campaigning in California, which is the biggest prize of the six states up for grabs in the major primary contest this week.
Clinton maintained a steady lead over Sanders in the Puerto Rican primary tally. With about a quarter of precincts reporting, Clinton had about two-thirds of the vote to Sanders' one-third.
Residents of Puerto Rico — a territory, not a state — cannot vote in the presidential election, but Puerto Ricans living on the mainland can. Tens of thousands of Puerto Ricans live in Florida, a key battleground state, so the primary could have a significant impact in the general election.
But a win may also have given Clinton pause. Eight years ago, she beat then-Senator Barack Obama with 68% of the vote in Puerto Rico but didn't get the nomination.
The economy was key to Puerto Rican voters. Both Sanders and Clinton had pledged to help as the island's government tries to restructure $70bn (£49bn) worth of public debt the governor has said it is unable to pay.
But Clinton's gender also helped with some voters. "I'm for Hillary, girl," 83-year-old Candida Dones told Associated Press as she cast her vote. "I can't wait for a female president. She's one of us. She wears the pants. If we don't look out for our own interests, who will?"
Clinton has 1,807 pledged delegates won in primaries and caucuses; Sanders has 1,516. When including superdelegates, her lead over Sanders is significant — 2,355 to 1,562.
Andres Lopez was one of seven of the island's superdelegates who went for Clinton. "It is time to focus on squashing 'El Trumpo,'" he said, referring to presumptive GOP presidential nominee Donald Trump.