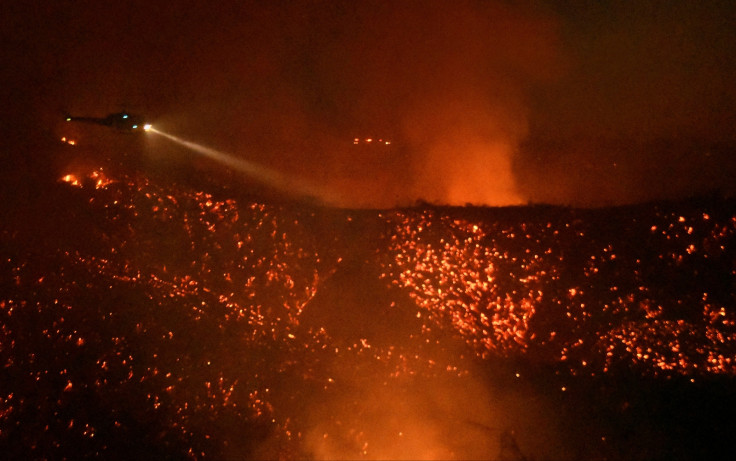 Thousands of evacuees began returning to their mansions in the hills of Calabasas outside Los Angeles as firefighters finally gained control of some 75% of a raging blaze. Officials planned to lift all evacuation orders by Sunday evening 5 June as hundreds of firefighters continued fighting the blaze that had scorched some 500 acres of the upscale community that's home to several celebrities, including the Kardashian family and Jessica Simpson, some of whom took to social media to record and comment on the blaze.
"Am I going to have to evacuate?" wondered Kylie Jenner on Instagram. Khoe Kardashian responded: "No, Kylie, you won't have to evacuate, because it's closer to my house than yours, sadly, so let's pray nobody has to evacuate." Kylie adds later: "This is our city. Calabasas is where we were born and raised. This cannot go down."
Close to 5,000 people were ordered to evacuate 3,700 homes in Calabasas and nearby Topanga, both steeply hilly regions west of Los Angeles and north of Malibu.
The fire broke out the previous day when a pickup truck struck a power pole and a transformer exploded, CNN reported. The sparks ignited the surrounding brush, which is dryer than usual in the ongoing California drought.
The blaze was difficult to fight as hot winds drove it up the hills. The fire raged on the slope of a canyon, "which makes it very dangerous for us to do a direct attack," explained Los Angeles County Deputy Fire Chief John Tripp.
The fire was dubbed the "Old Fire" because of its proximity to Old Topanga Canyon Road. It ran right to the edges of Calabasas High School before firefighters could control it.
One commercial building was destroyed in the fire and two homes were damaged. No injuries were reported.
Likely ruined by the flames was much of the land used by a new summer camp opening out of the Mountains Restoration Trust. Camp Wildcraft owner Shari Davis told the Los Angeles Times: "I am kind of in despair at the moment. It looks like the whole area could be destroyed.
"This was the first camp we were starting and everything was going so well with so much excitement and enthusiasm," she said. "We need to figure out a way to move ahead."
Ellen DeGeneres took to Twitter to thank her rescue-worker brother-in-law Michael on the scene.