Hillary Clinton takes her campaign to Comedy Central's Broad City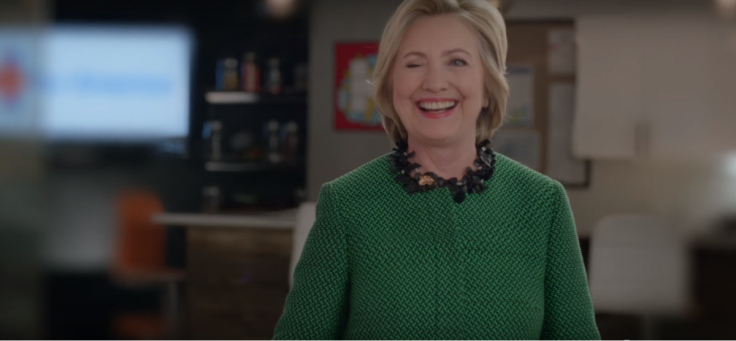 We thought Hillary Clinton would be too busy with her presidential campaign to concentrate on anything else, but the Democratic candidate made time to make a guest appearance on Comedy Central's show Broad City. In the 16 March episode of the series, Clinton proved that she has a sense of humour as she joined the show's lead actresses Abbi Jacobson and Ilana Glazer for a short cameo in the show about two pot-smoking best friends in New York City.
The episode follows Ilana Wexler (played by Glazer), who works making calls for the Clinton campaign, until she realises the position is an unpaid one and is forced to give it up. But before leaving she gives best pal Abbi Abrams (played by Jacobson), a tour of the office and her desk.
And this is where Hillary Clinton steps in. The girls go hysteric, making a volley of squeals before speaking a string of nonsensical gibberish to the Democratic forerunner. "Hello. Proud Demo. Crat. College. Aquarius. I pegged," Abbi blabs while shaking Clinton's hand.
Ilana though is in better control of her brain and promises the former secretary of state that even though she no longer works for the campaign, she will tweet, "Vote for Hillary: yas, yas, yas!" once a week.
Clinton too has her own ideas to help improve the vibe in the office. She switches on an inflatable air dancer (Ilana had installed similar one at her previous workplace). "I thought this would be really good for office morale," the politician says. "Isn't she great?"
The 68-year-old has been making efforts to improve her standing among the younger US voting population in a bid to come across as more relatable. She did the Whip/Nae Nae dance with Elle DeGeneres and also gave a very revealing interview to Lena Dunham.
© Copyright IBTimes 2023. All rights reserved.