After a year and a half of campaigning for the White House, the US presidential election will come to an end in just one day. Final polls all point to a win by Democratic nominee Hillary Clinton over her Republican rival Donald Trump in what has been an election filled with scandals, high emotions and even a couple of criminal investigations.
Despite suffering a setback in the final weeks of the campaign, Clinton has the clearest shot at becoming the next US president. Analysis by FiveThirtyEight gives the former secretary of state a 68.5% chance of winning over Trump's 31.5%. Clinton's outlook is even better in analysis by The New York Times' TheUpshot, which gives her an 84% of winning to Trump's 16%.
Reuters/Ipsos, meanwhile, gives Clinton a 90% chance of defeating Trump on 8 November. A survey released by Reuters shows Clinton leading 45% to Trump's 42% in the popular vote. The survey gives Clinton a clear path to 303 electoral votes, clearing the 270 needed to win the election.
Eight of nine polls released on 7 November also give Clinton a victory over Trump, with the LA Times/USC Tracking the sole outlier that gives Trump a 5% lead over Clinton, 48-43. Clinton's biggest lead is seen in the NBC News/Survey Monkey poll, which places her ahead by 7%, 51-44. Monmouth University gives her a similar lead, putting her up by 6%, 50-44.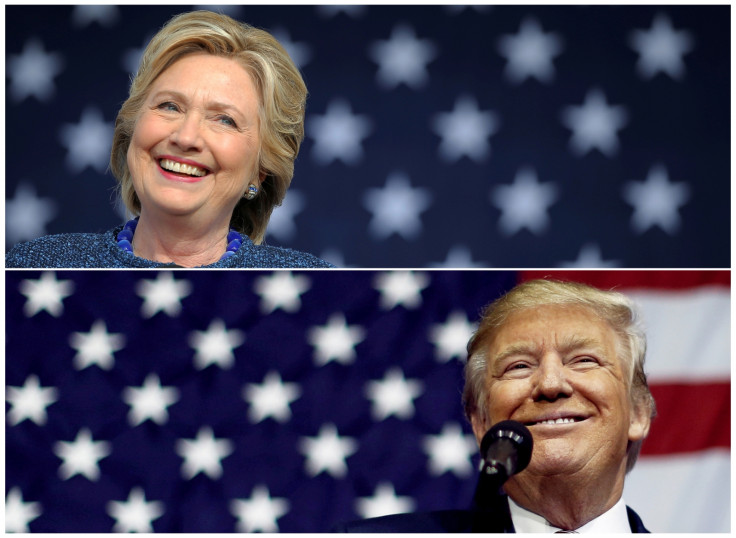 The gap between the two major candidates shrinks to 4% in polls conducted by CBS News, The Economist/YouGov and FOX News, and to 3% in polls released by ABC/Washington Post Tracking and Bloomberg. Clinton holds a single-point lead in a poll conducted by IBD/TIPP Tracking, putting her at 43-42 over Trump.
According to averages by RealClearPolitics, Clinton leads by 2.9 points, with average support of 47.2% over Trump's 44.3%.
Clinton also appears to hold the lead in several battleground states. The former senator currently leads in polls conducted in Colorado, New Hampshire, Pennsylvania and Virginia. While polls included in averages by RealClearPolitics show Trump leading in the crucial states of Florida and North Carolina, FiveThirtyEight predicts the two states will go to Clinton.
Meanwhile, Trump holds steady leads in Arizona, Iowa and Ohio in both the polls and in analysis by FiveThirtyEight. Despite this, the numbers show that Trump may not have the states he needs to win the 270 electoral votes he requires to win the race for the White House.
According to The Washington Post's The Fix, a final analysis favours Clinton with 275 electoral votes solidly or leaning her way. Analysis by Chris Cillizza and Aaron Blake notes: "In fact, even if Trump holds all of the states either solidly or leaning his way and wins all three states currently rated as 'toss-ups,' [Florida, New Hampshire and North Carolina] he is still seven electoral votes short of 270."
Early voting reports also point towards a win for Clinton, though those numbers cannot definitively give her a victory as many voters will hit the polling stations on 8 November. However, if Clinton does win on Tuesday, Trump is unlikely to go down without a fight. He has on several occasions claimed the election is rigged against him, and during the final presidential debate in October he refused to confirm that he will accept the election result.