The families of those who died in the Hillsborough have acted angrily to the news retired South Yorkshire Police (SYP) officers have been told they "did a good job" in the 1980s, despite the inquest into the disaster ruling 96 people were unlawfully killed.
The message on a website dedicated to retired SYP officers, which was accidentally made public, said they should be proud of the work they did despite the "bile and hatred" that has been aimed towards them.
The comment from Rick Naylor, secretary of the South Yorkshire branch of the National Association of Retired Police Officers (Narpo), was meant to be a private morale booster to retired officers following the conclusion of the Hillsborough inquest, in which the force was heavily blamed for the deaths of the 96 Liverpool supporters in Britain's worst sporting tragedy.
In a message entitled "It was a bad day", Naylor wrote: "After all that transpired yesterday [26 April] it has not shaken my belief – I worked in a great police force with fantastic people who did extraordinary things. I am extremely proud to be an ex-South Yorkshire cop and I will hold my head up. South Yorkshire Police faced immense challenges in the 1980s – the steel strike, the miners' dispute and Hillsborough, and along the way we caught the Yorkshire Ripper!
"All these challenges tested SYP and, yes, mistakes were made and we would all like to turn the clock back, but beyond these headlines the communities of South Yorkshire were served by dedicated police officers, full of good humour, courage, and selflessness – and that was you. You will be feeling sore, angry and disheartened and that is understandable but you did a good job – we all did!"
Louise Brookes, whose 26-year-old brother died at Hillsborough, was one of those who criticised the message. She told the BBC: "Where I get very angry is when my brother most needed the police's help, they literally turned their backs on him."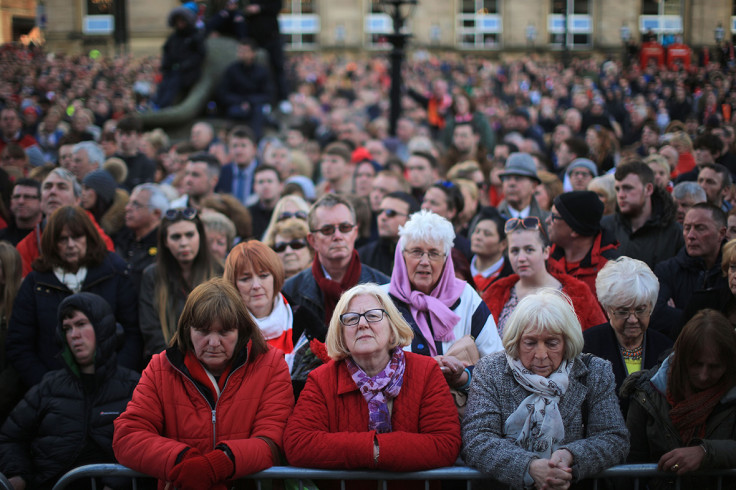 Barry Devonside, whose 18-year-old son Christopher died in the disaster, also reacted to Naylor's comments. He said: "He's kidding himself. I saw police officers endeavouring to give mouth-to-mouth or CPR and those people were excellent. But the sad thing is there were only a few, maybe on two hands you could count them. There were over 200 police officers walking around that pitch aimlessly. No direction, no leadership."
Labour MP for Liverpool Walton Steve Rotheram told the Press Association: "lt's totally insensitive. For families – for them to have, at long last, to have some faith in the British judicial system, and that the police had changed, and that things were different – it feeds that it's 'us versus them' and we thought we'd put a line under that.
"I don't think there was bile and hatred towards police officers, I think the bile and hatred was one way and that was towards Liverpool fans and some of that was a direct consequence of the police being part of an orchestrated cover-up."
SYP chief constable David Crompton has been suspended from his role following the Hillsborough inquest. Dr Alan Billings, police and crime commissioner for South Yorkshire, said the decision arrived based on the "erosion of public trust and confidence". Crompton admitted the force had the policing of the 1989 FA Cup semi-final game "catastrophically wrong" following the inquest verdict.