Leo Varadkar, the 38-year-old gay son of an Indian immigrant, is set to become the prime minister of Ireland after winning the Fine Gael leadership contest.
Varadkar, who is younger than Emmanuel Macron, will be the first person of colour to lead a European nation and the first homosexual to lead Ireland – a Catholic nation where gay sex was illegal until 1993.
The former doctor saw off Simon Coveney in a race to become the new leader of the centre-right Fine Gael party after former Taoiseach Edna Kenny announced his resignation on 17 May.
Fine Gael currently lead a minority government in Ireland with the support of MPs from Fianna Fail and the Independent Irish Party.
Both have indicated that they will continue to back Fine Gael under Varadkar. He is expected to be made on Taoiseach on 13 June when Kenny steps down.
Varadkar came out publicly in 2015. He told RTE: "I am a gay man, it's not a secret, but not something that everyone would necessarily know but isn't something I've spoken publicly about before.
"It's not something that defines me. I'm not a half-Indian politician, or a doctor politician or a gay politician for that matter.
"It's just part of who I am, it doesn't define me, it is part of my character I suppose".
Varadkar's father, an Indian doctor, and his mother, an Irish nurse, met while working at a hospital in Slough, England
The former Minister for Social Protection has only visited his father's homeland once, aged 14.
"Looking back, I was too young. It was too much," he told the Irish Times in 2010.
He was privately educated and went to medical school, practicing as a doctor for several years. The Irish Times described his upbringing as "conventional Dublin suburban middle class".
The election of a young, gay man of mixed ethnicity to prime minister would confirm Ireland's status as a global front runner in the promotion of equality and diversity.
The 2015, the Irish people voted, by a ratio of two to one, to legalise same-sex marriage. The New York Times said it put the country "at the vanguard of social change".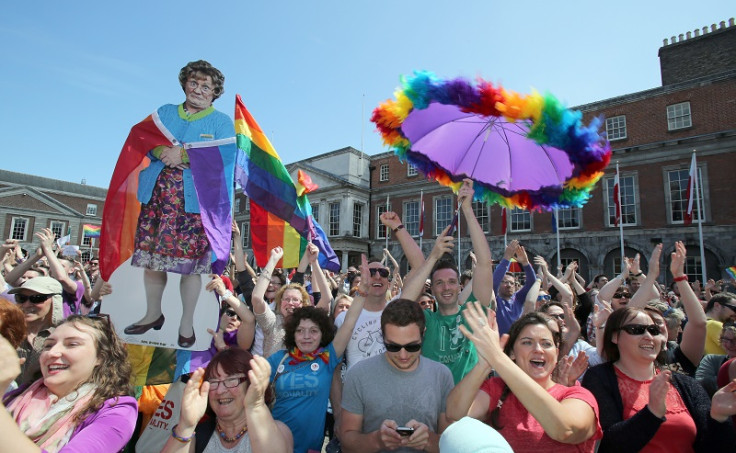 Speaking after the victory, in which he campaigned for the 'yes' vote, Varadkar told RTE: "One of my motivating factors in doing it was that I couldn't pretend to be objective in this campaign as it was personal."
"It was personal for a lot of people, not just gay men and lesbians, but for their friends and their families, their colleagues. It was a very personal decision and what I said in that interview was that I wanted to be an equal citizen in my own country and today I am."
Varadkar has been an MP since 2007. He has said that he would be a Republican if he was American and a Tory if he was English.