An online auction for Adolf Hitler's personal copy of his autobiography Mein Kampf is to close today.
The 1932 edition of the book, in which Hitler outlines his anti-semitic racial theories and political programme for Germany, was discovered in the dictator's personal library at the end of World War II, and is expected to fetch at least $99,170 (£62,000).
Auctioneer Craig Gottlieb, who regularly features on the History Channel's Pawn Stars is selling the book, with bids starting at $4,995 (£3,120).
He said that evidence suggests that it is the only copy that was in Hitler's personal possession, and it was of greater historical value than a signed copy that recently sold in a UK auction for £48,000.
Gottlieb told Yahoo News: "This item is special as it's the only copy of Mein Kampf that belonged to Hitler – and although controversial and evil, he changed the world.
"The book is far more important than mere signed copies.
"I am acutely aware of the controversial nature of some of the things I sell but controversial or not, they're a part of history and shunning them is like shunning the history they represent.
"For some, a museum or a book does it, but for me, I have to hold an artifact in my hands – they're like little time machines."
Mein Kampf was written by Hitler following the failed Munich Putsch of 1923 and published in 1925, with Hitler dictating the book's initial chapters to his deputy Rudolf Hess whilst in jail.
The copy on auction today was found in Hitler's Munich apartment by US soldier Joseph Ben Lieber in 1945.
The book, which contains Hitler's personal ex libris library plate on the inside front cover, was sold to Gottlieb last year along with other personal items that belonged to the dictator – including a brown shirt worn by Hitler at rallies and his personal SS membership pin – which are also being auctioned.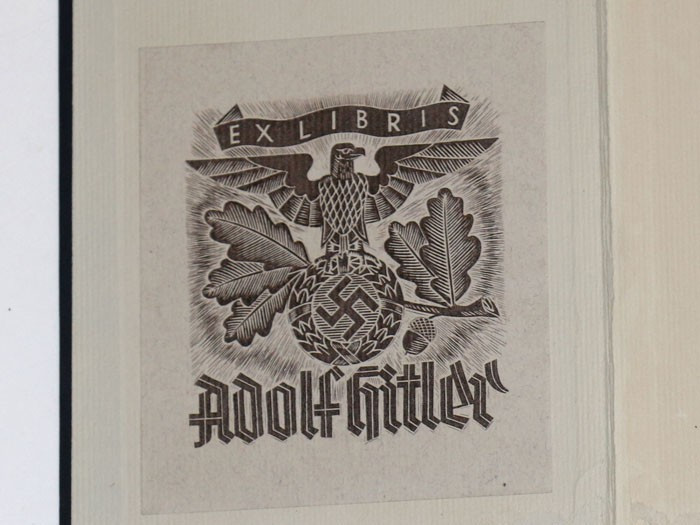 "This artifact is historically significant and I would love to see it go to a museum," said Gottlieb of the book.
"However, market realities are such that it will probably find a home with a book collector who appreciates its historic significance."
Documents establishing the book's provenance are to be included in the sale, which finishes at 7pm GMT this evening.