Adolf Hitler's personal copy of his autobiography, Mein Kampf, will be auctioned in Maryland, US, the Alexander Historical Auctions has said. The copy was found by US officials in Hitler's Munich apartment in 1945.
Hitler wrote Mein Kampf, meaning My Struggle, in 1924 during his imprisonment in Landsberg Prison. First published in 1925, Mein Kampf is regarded as the political manifesto of Hitler in which the young Nazi leader drafts his ideology and future plans for Germany that would eventually end up in a war and horrific genocide.
The copy which will go under the hammer on 17 and 18 March is the second edition of the autobiography. The second volume, titled The National-Socialist Movement by Adolf Hitler, was published in 1927, according to the auctioneer.
The auction house said that the copy was a "very rare" and limited edition of Mein Kampf. Its front flyleaf is signed by 11 American officers who were among the very first to enter Hitler's flat after Munich was liberated during World War II.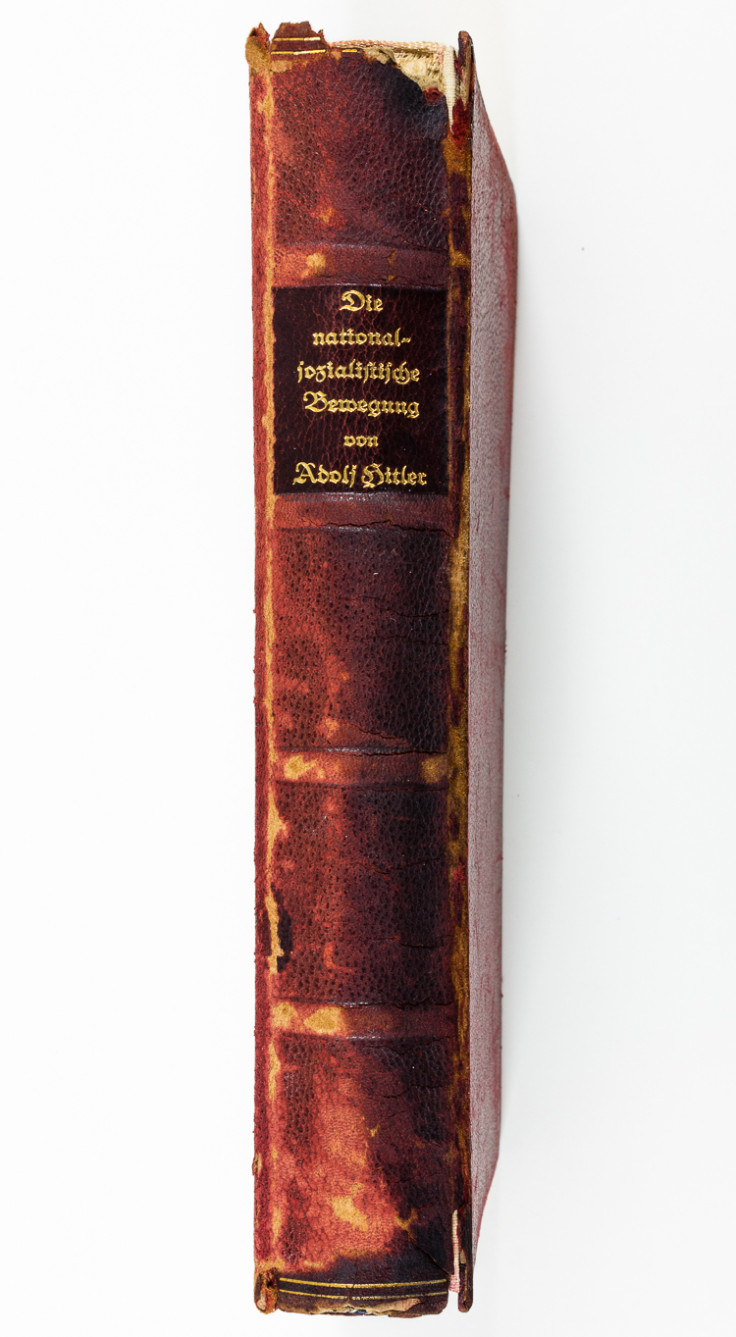 "It is a rare edition of the work, not available to the general public, and was likely kept by Hitler for his own use or as a potential gift for an admirer," the lot's listing reads.
The book is accompanied by a letter of provenance from the daughter of one of the members of the field artillery unit who discovered the copy. The letter states that her father brought the book home with him at war's end.
"Common trade edition copies of Mein Kampf have been touted as being Hitler's personal copy [but] this particular relic is of the best quality and with the most solid provenance," the auction house said of the copy, which is expected to fetch $12,000 to $15,000 (£8,500 to £10,500).
A new edition, said to be an academic version, of Mein Kampf was published in Germany in January, for the first time since World War II. The edition, published by Munich-based Institute for Contemporary History, carries academic commentary and 3,500 annotations.
Famous Mein Kampf Quotes
"If you tell a big enough lie and tell it frequently enough, it will be believed."
"When diplomacy ends, War begins."
"It is not truth that matters, but victory."
"I do not see why man should not be as cruel as nature."
"Who says I am not under the special protection of God?"