Britain's newest and largest aircraft carrier HMS Queen Elizabeth, which set sail for the first time Monday (26 June) to start sea trials, could potentially be vulnerable to cyberattack after it emerged that the warship is still using outdated software.
During a tour of the £3.5bn ($4.45bn) state-of-the-art carrier last week, a group of journalists spotted a computer screen inside a control room that appeared to be using the outdated 2001 Windows XP operating system, the Guardian reports.
Windows XP was one of the OS that was vulnerable to the massive WannaCry ransomware attack in May. The attack wreaked havoc across the globe, affected more than 300,000 computers in 150 nations and disrupted businesses worldwide, including parts of the NHS.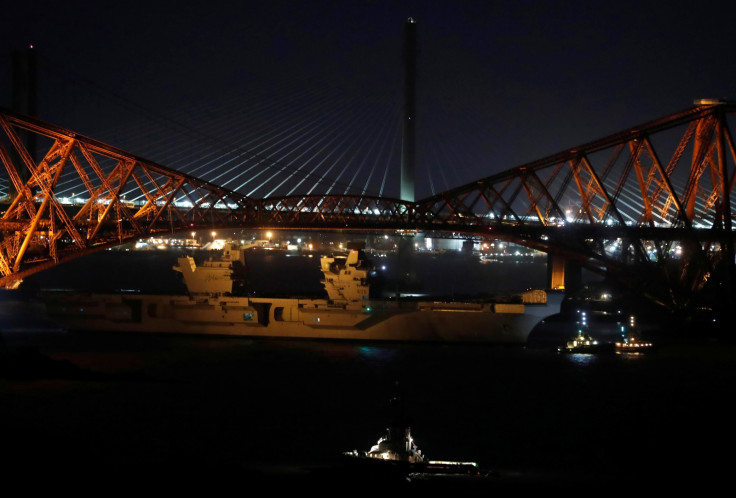 Microsoft cut support for Windows XP in April 2014, 12 years after it was released in 2001. This means there will be no more security updates or technical support released for the operating system, potentially leaving it vulnerable to threat actors and cyberattacks.
While security experts have raised concerns about using the software post-2014, Commander Mark Deller, who serves as commander air on board Queen Elizabeth, said the ship will have the necessary security measures and defenses when deployed on missions.
"The ship is well designed and there has been a very, very stringent procurement train that has ensured we are less susceptible to cyber than most," Deller said, the Guardian reports.
"With regards to someone wanting to jam my radio frequencies, we will have an escort and destroyers around us that will ward off people who try and impact our output. That's normal routine business at sea."
He also added that "compared to the NHS buying computers off the shelf, we are probably better than that."
"If you think more Nasa and less NHS you are probably in the right place," he noted. Deller suggested that any outdated systems would eventually be upgraded.
"When you buy a ship, you don't buy it today, you bought it 20 years ago," Deller said. "So what we put on the shelf and in the spec is probably what was good then. The reality is, we are always designed with spare capacity, so we will always have the ability to modify and upgrade.
"So whatever you see in the pictures, I think you will probably find we will be upgrading to whatever we want to have in due course. It might have already happened but I can't tell you."
The revelation comes after British Parliament was hit with a "sustained and determined" cyberattack that compromised up to 90 MPs' email accounts that were protected by weak passwords.
The 65,000 tonne warship made her way of Rosyth into the River Forth yesterday in a three-hour operation after waiting for the tide to drop in order to pass under the Firth's bridges and head to the North Sea for sea trials.