The British Defence Secretary has taken a swipe at Russia by saying that Moscow will envy the UK's new flagship HMS Queen Elizabeth.
Sir Michael Fallon said he expected Moscow to be spying on the new 65,000 tonne carrier and he also mocked Russia's vessel the Admiral Kuznetsov.
He wrote in the Telegraph: "When you saw that old, dilapidated Kuznetsov sailing through the Channel, a few months ago, I think the Russians will look at this ship with a little bit of envy."
Back in January, Fallon described the Russian vessel as a "ship of shame" after being escorted by Typhoon jets and support vessels as it returned from Russia's air campaign in Syria.
This sparked a swift retort from Russia whose defence ministry pointed out there had been four Trident missile test failures in 2015.
Russian vessels and aircraft are expected to spy on the new vessel when it has trials in the North Sea.
The Navy will escort it with a frigate or destroyer and use helicopters to be on the lookout for any spying Russian submarines.
Fallon said: "It's really routine for the Russians to collect intelligence on our ships. We will take every precaution to make sure that they don't get too close, but I think they will be admiring her."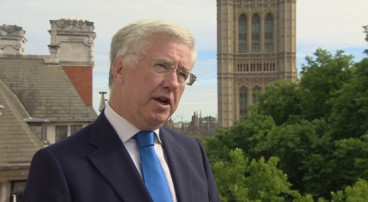 The 55,000 ton Kuznetsov has to be accompanied by a tugboat to deal with any potential breakdown.
Fallon also said in the Telegraph that the UK should invoke the strength of former prime minister, Margaret Thatcher in dealing with "multiple" threats and had to deal with a "resurgence of Russian aggression abroad...undermining democracy wherever it can".
"We shouldn't downplay what we can offer. Like Mrs Thatcher, we too are engaged in a battle of ideas. It's a battle we must win - making it clear, in word and deed, that our values are not tradable," he wrote.