Better known as the festival of colours, Holi is a Hindu festival that is celebrated in India and Nepal around March. The occasion, which falls this year on Monday, 13 March, is a two-day long celebration beginning on the full moon day (Purnima) in the Hindu month of Phalguna.
Over the years the festival has become much more inclusive as followers of different religions and communities become a part of the festivities. The auspicious time also marks the arrival of spring and people usually associate Holi with the universal theme of victory of good over evil.
History of the festival of colours
Among the several legends behind this ancient religious festival, the history of the demon king Hiranyakashipu's clash with Lord Vishnu is the most popular one. According to mythology, the lord of Asuras (demons) was granted with a boon that made him nearly indestructible. However, consumed by his own powers, Hiranyakashipu demanded that he be worshipped like God.
When his own son, Prahlada refused to obey him and remained a devotee of Lord Vishnu, it infuriated the demon king. Not only did he punish Prahlada for his faith but also resolved to kill him with some help from his evil sister Holika.
Miraculously, all of Hiranyakashipu's evil plans failed as Lord Vishnu protected his devotee even when Prahlada stepped on to a burning pyre. Instead Holika was burned to ashes.
Another legend alludes to the playful romance of Lord Krishna and Radha, which is why the festival is also called the festival of love.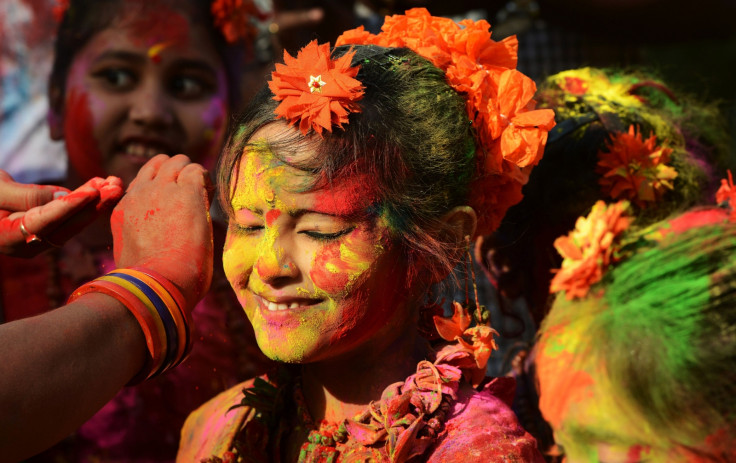 When and how is Holi celebrated?
Usually, this colourful festival is celebrated at the approach of spring, sometime around March. While the traditions differ in various Indian states, a few elements remain constant like playing with colours, singing, dancing, and sweet delicacies.
IBTimes UK has compiled popular Holi quotes, greetings and messages to share with your loved ones on the occasion.
1. "May God paint the canvas of your life with the colours of joy, love, happiness, prosperity, good health and success. Wishing you a Happy Holi."
2. "On the happy occasion of Holi, let us spread the wonderful message of peace and happiness. Wishing everyone a wonderful Holi."
3. "Holi is the apt time to break the ice, renew relationships and link yourself with those that you wanted to with a bit of colour."
4. "Make merry with the colours on Holi and the rest of the days with the colours of love."
5. "I not only wish to paint your face but also your life with the vibrant colours of love, happiness and joy. Happy Holi."
6. "Red for love, green for prosperity, orange for success and pink for happiness. May God Bless you and your family with all these colours, Happy Holi!"
7. "Let this festival burn all negativity and bring positivity in life. Celebrate with vibrant colours!"
8. "Even though I am far away from you on the happy occasion of Holi, all my thoughts and good wishes are with you. Have a wonderful Holi."
9. "Holi is a special time of year to remember those who are close to our hearts with splashing colours!"
10. "Dipped in hues of love and trust has come the festival of Holi."