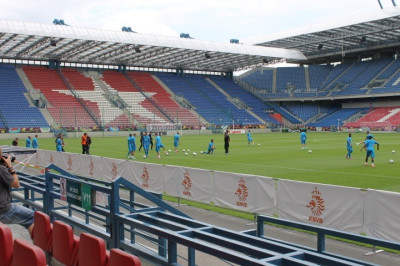 It might be the Group of Death, but not many football fans were expecting the outcomes that took place on Saturday night for Holland, Denmark, Germany and Portugal.
While the Dutch were expected to take out their first match against Denmark with ease, the 1-0 scoreboard signalling that the opposite had happened came as somewhat of a shock.
With the likes of Robin van Persie, Wesley Sneijder and Klaas-Jan Hunterlaar leading the attacking front, to come away without a goal left the side feeling particularly deflated as they looked to keep up with fellow trophy favourites Germany.
A German win over Portugal followed, albeit a more subtle one that expected, and Holland now surely have to win both of their remaining group stage matches if they hope to get as far as the quarter finals in the competition.
Sneijder told Dutch media after the game: "We were missing the final bit of decisiveness.
"The strikers are keen to score and I play in behind them and give them the ball, but they must score. We played well and we were great at the beginning of the game.
"In the last half-hour we had two or three good chances. But in the last 10 minutes we were running on empty. However we kept fighting until the very last minute."
IBTimes UK was on hand as the side gathered for their first training session after the loss, and they looked particularly set on righting the wrongs of the match as they set about in a group of organised and competitive practice matches amongst the squad.