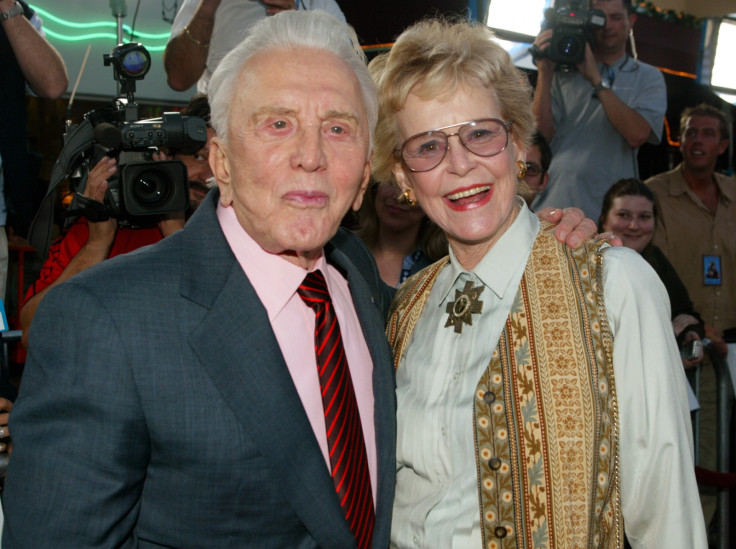 The mother of actor Michael Douglas has died at the age of 92 in Los Angeles, according to her family.
Douglas was the first wife of actor Kirk Douglas and appeared in many films and TV shows including Planes, Trains and Automobiles, as well as ER and The West Wing.
She died of cancer in a retirement home on Friday 2 July, said her third husband Donald Webster.
She studied at the American Academy of Dramatic Arts in New York, where she first met Kirk Douglas and they were married in 1943. They had two sons, Michael and Joel.
The couple divorced in 1951 and acted together in the 2003 film It Runs in the Family, about a dysfunctional family, which also starred son Michael and grandson Cameron.
"I've always enjoyed Kirk's sense of humour, even when I was angriest at him," Douglas said in a Hollywood Reporter interview. "He could always make me laugh, somehow, which annoyed the hell out of me. But then I think we both decided too, when the time of divorce came, that we had to maintain a certain amount of civility because of the children.
"I know Michael has said since being an adult that he was always very grateful that we never did badmouth each other. Sometimes we probably wanted to. And also, I think that after [Kirk] got married to Anne, [she] made it very much easier, because she and I cooperated very much in terms of bedtimes and what they could watch on television and that kind of thing."
The actress began her career with Warner Bros and also was the cover model for Life Magazine in 1943. Kirk Douglas saw the Life cover and vowed to marry her.
"She was a person much beloved by everyone," Webster said in a CNN report.
"One of her greatest qualities was that she was always thinking of the other person."
She penned her autobiography after son Michael asked her to record her memories for her grandson Cameron. She wrote In the Wings: A Memoir, which included that she once had an affair with Hollywood matinee idol Errol Flynn.
In her memoir, she revealed her personal philosophy: "Be courageous, be compassionate, and, for God's sake, have fun!"