Her Royal Highness Queen Elizabeth II brought the sun out as she glowed in a vibrant yellow dress and hat greeting 8,000 guests at the Palace of Holyroodhouse for a garden party as part of the annual royal Holyrood week.
The monarch, who turned 90 in April, was in good spirits as she joined her husband, the Duke of Edinburgh for the annual garden party at the Palace. Greeting many well wishers, the Queen was in good health and spirits as she chatted with the attendees of the prestigious event that included Scottish first minister Nicola Sturgeon and TV personality Phillip Schofield.
Sturgeon also presented the Queen with a stone bench to commemorate her 90th birthday. The hand carved design was created in Clashach stone with timber seating slats made from elm that had been planted at Holyroodhouse during Queen Victoria's reign.
Sturgeon said of the gift: "Our present was specially designed with Her Majesty in mind and each carved element required many hours of focused concentration and advanced stonemasonry skills. I am thrilled that Charlotte, our own Modern Apprentice has had this amazing opportunity to showcase her talent and skills that she has gained whilst at Historic Environment Scotland."
"I would like to join the thousands of people across the country toasting Her Majesty as her birthday celebrations continue during her annual visit during Royal Week in Scotland."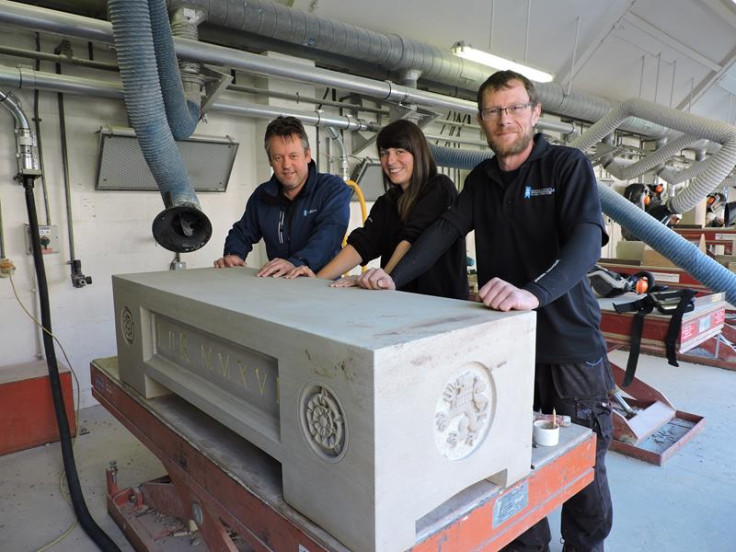 The bench was designed by Historic Environment Scotland and crafted by Modern Apprentice stonemasons based in Elgin and is carved with a rose, Lion Rampant and stag's head motifs, on behalf of the people of Scotland.
Stonemason apprentice Charlotte Brough added: 'I was very honoured to be asked to do the cavetto surrounding the lettering on the bench, and also quite nervous knowing it would be presented to the Queen. I'm really pleased with the result.'
The Queen remained full of energy on day five of her royal visit to Scotland and was seen smiling throughout the day. Prince Philip was also in fine form and looked his usual dashing self dressed in a traditional tailcoat.
Holyrood week is a long recognised tradition during which the Queen performs duties that would usually be performed in London, which includes the garden party and opening parliament.
Upon her arrival on 27 June, Her Majesty was greeted by hundreds of guests before being presented with a red-velvet cushion that has the key to the city resting upon it. This is then handed to her by the Lord Provost who welcomes Her Majesty and promises the city's loyalty to her before the key is returned.
Yesterday Elizabeth II dressed in a modest but elegant monochrome white dress and coat with co-ordinating pearl necklace as she attended a reception at Holyrood Palace to honour Scots for their commitment to public service. The neat speckled white and gold outfit by Angela Kelly was paired with her stalwart classic Launder bag that the Queen carried as she met with guests.
Last Friday, the Queen officially opened the fifth session of the Scottish parliament with a speech that focused on optimism rather than mention Brexit.
"It is a pleasure to be invited to address you on this special occasion" Her Majesty said to the house "to mark the opening of the fifth session of the Scottish Parliament."
"Members of the Scottish Parliament, occasions such as today are rightly a time for hope and optimism. The beginning of this new session in particular brings with it a real sense of renewal, with your largest intake of new Members since 1999. For me, it also brings an echo of the excitement and enthusiasm I encountered that year , when many of the then MSPs — and I am pleased to note quite a number of you are still serving today — set out on a collective journey in Scottish public service."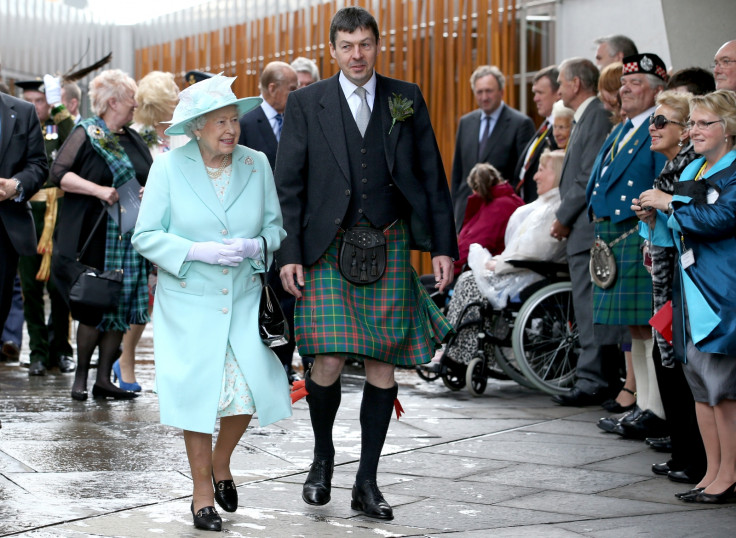 The Queen is in residence at Holyrood palace with Prince Philip until 10 July.