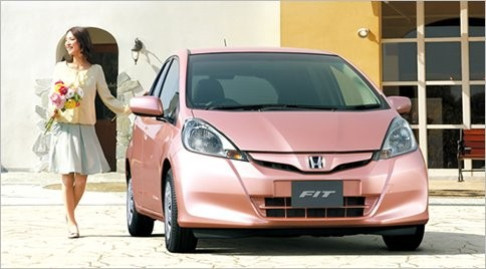 Japanese car manufacturer Honda claims to have discovered the secret to eternal youth- a car that drives away wrinkles.
For £10,877, ladies keen to turn back the hands of time can get their hands on the special edition Fit She.
The car, which is rolling into showrooms across Japan, apparently has a windscreen that blocks 99 per cent of wrinkle-causing UV rays and the "Plasmacluster" air-conditioning pumps out ionically charged particles, thought to make skin softer.
While catering to the skincare needs of its female customers, designers have made sure that the run around still looks stylish.
The car features a shiny baby pink body work as well as pink stitching in the seats, steering wheel and floor mats, as well as pink metallic around the gear stick and displays.
But for woman not into pink, the car also comes in white and brown, which the company claims will complement eye shadows
This is not the first time a manufacturer has designed a car aimed specially at women. In 1955, Chrysler launched the Dodge LaFemme, a pink-and-white car that had a handy place for ladies to store a matching purse and rain hat, which was unsuccessful.
Would you buy a car designed to help you look more youthful?