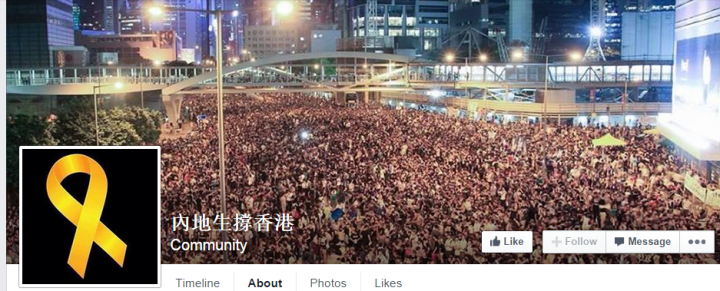 A group of mainland Chinese youths have set up a Facebook page in support of the ongoing student protest in the special administrative region of Hong Kong.
Thousands of university and secondary school students are rallying to voice their dissent against China's recent ruling over Hong Kong's Chief Executive Election in 2017.
The Mainlanders Support Hong Kong page was set up on Wednesday and already has over 1,600 likes.
Lydia Liu, one of the creators and a former student in Hong Kong, said she had received between 20 and 30 photos of people showing support for the protest, renamed by media the Umbrella Revolution, by Thursday.
"We persuaded people who are now on the mainland not to post their photos [of themselves]. We don't want to put them in trouble," she told the South China Morning Post. "People have been detained in Shenzhen for showing support."
Liu is now studying abroad: "I may not have the guts to do it if I live in mainland," she said. "For us [mainlanders] living in Hong Kong or abroad, we won't get arrested for showing our support, at least for a period of time."
Liu then urged mainlanders "to step up and show support."
The page was set up initially in response to a photo campaign conducted on the Wechat account of "Hong Kong Drifters Circles," popular among recent mainland immigrants to Hong Kong.
The account invited its more than 50,000 subscribers to share their thoughts on the protests.
One of the posts submitted in response showed pictures of youths holding banners with slogans that Liu said were indicating opposition to the Hong Kong revolution.
Some of the slogans read: "I want to focus on study" and "Keep calm and carry on".
The Wechat account refused to post photos with messages of support that she sent, Liu added.
Why are Students Protesting?
According to Beijing, Hong Kong's potential candidates could be chosen by locals but also have to be vetted by a Chinese nominating committee. Contenders need to secure support from at least 50% of the members of the committee and those rejected will not be able to run in the election on the grounds of national security.
The decision enraged thousands of democracy supporters who fear China will use the committee to screen out the candidates it disapproves of.
After days of rallies, demonstrators clashed with police who hurled teargas and pepper spray on the crowd.
Hong Kong Chief Executive Leung Chun-ying, urged by the protesters to step down, said he will not leave his office, but he added he called for the territory's top civil servant, Carrie Lam, to open dialogue with the demonstrators on the "constitutional development" of Hong Kong.