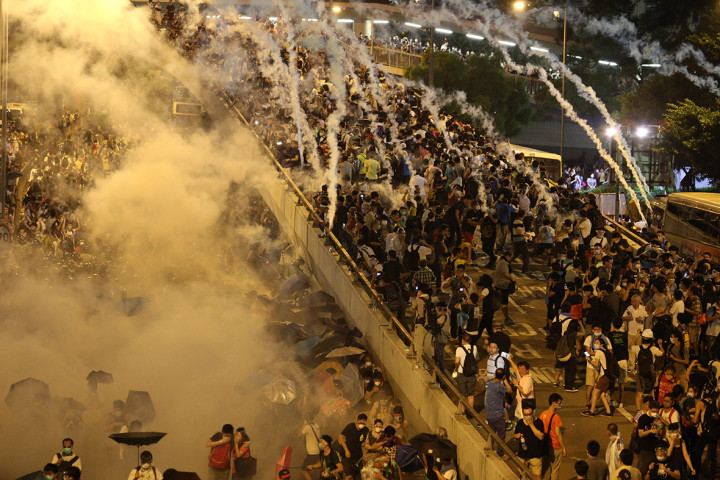 In early September thousands of secondary school and university students took to the streets of Hong Kong to protest against China's ruling on the next Hong Kong chief executive election in 2017.
According to Beijing, Hong Kong's potential candidates could be chosen by locals but also have to be vetted by a Chinese nominating committee. Contenders need to secure support from at least 50% of the members of the committee and those rejected will not be able to run in the election on the grounds of national security.
The decision enraged thousands of democracy supporters who fear China will use the committee to screen out the candidates it disapproves of.
After days of rallies, in which demonstrators clashed with police who hurled teargas and pepper spray on the crowds, protests are still ongoing.
Here is a look at the moments most shared on social media.
Umbrella Revolution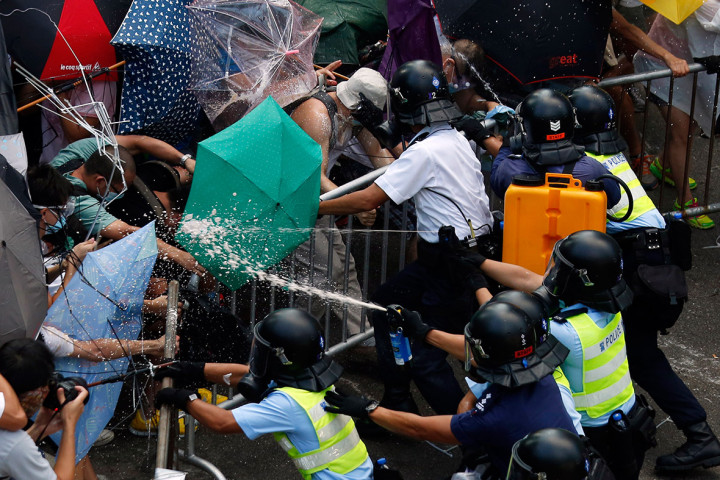 Pictures of demonstrators using umbrellas to protect from the teargas and pepper spray hurled by police have been broadly shared on social media and have become the iconic image of the protest.
Many are now referring to the student protest as the "Umbrella Revolution".
Hong Kongese Girl Video: Please Help Hong Kong
Last week, the video of a girl asking for worldwide help to resolve the unrest over democracy in Hong Kong emerged.
In the footage, the girl explains the events unfolding in the territory.
"Earlier this morning [28 September], protesters were peacefully sitting outside government's headquarters and tried to protest," she says. "However the government suddenly sent out police with armaments and shields towards us and tried to evacuate us; but everybody sat still and did nothing. Suddenly, the government started spraying pepper spray at every protester".
"We are asking for pop vote only, nothing more," the girl continues. "As a Hongkonger, I ask all of you from all over the world: please help us. Maybe all of you were born in democracy states, you were born with democracy choices, you have free elections rights, but we don't. Please help us, please spread the news. We really need democracy."
Freedom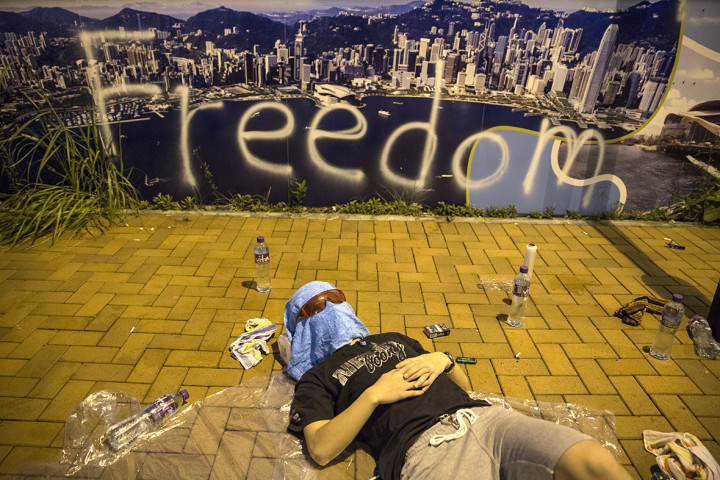 Pictures of the slogans "Freedom" and "Free Hong Kong" written on walls and pavements throughout Hong Kong have been also shared on social media.
Protesters are demanding China to respect Hong Kong's freedom of election, a right guaranteed by the "One Country, Two Systems" principle, stipulated between China and the British government when Hong Kong was given back to China in 1997 as a special administrative region.
According to the principle Hong Kong could retain its established system for at least 50 years after reunification.
Hands up Don't Shoot
Protesters in Hong Kong are using the same "hands up don't shoot" gesture as protesters in Ferguson, Missouri, used during protests after 18-year-old African-American Michael Brown, who was unarmed, was shot dead last August by a white policeman, shedding light on race issue in the US.